Governor Mutua Reveals Personal Bank Details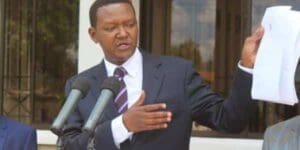 Machakos Governor, Alfred Mutua, surprised many on Tuesday afternoon after he provided details of his bank accounts and assets to the Ethics and Anti-Corruption Commission (EACC), in order to conduct an audit of his financial status.
Mutua, who has been on the forefront in the fight against corruption, made the bold move as he authorized EACC to conduct an indepth audit into the lifestyle of his County Government officials.
He said that his aim was to lead from the front, giving a public assurance that he had not amassed any unexplained wealth during his tenure as the county boss.
"Today, I have volunteered information of my wealth – my assets and bank account details to the responsible Commission for use in a lifestyle audit…I want to lead from the front and to show that in my time as Governor, I have not acquired any new, unexplained wealth..I have written to the CEO of EACC and requested for a lifestyle audit of all staff of Machakos County government," read a post on his Facebook timeline.
He further announced that he had formed an Anti-Corruption and Evaluation Unit, the first of its kind amongst the County Governments. Confirming the move, Mutua took to Twitter posting his photo with the newly elected members of the anti-corruption unit.
He reiterated his commitment to integrity and his aim in making Machakos the most transparent region, urging other officials to either follow suit or leave the county if they would not take the heat from the new measures.
Mutua has regularly vowed to fight officers involved in corruption, with the aim of ensuring efficient service delivery to Machakos residents. Recently, he suspended three of his county officers and sent others on compulsory leave citing corruption, sabotage and laziness in service delivery.
-kenyans.co.ke