The intrigues of Uhuru's changes to the Cabinet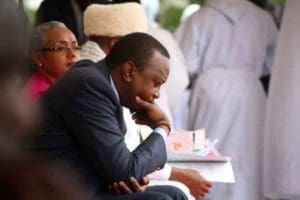 Details of the behind-the-scenes intrigues which informed the latest reshuffle that cut short the Cabinet careers of a quarter of the original list of ministers can be revealed by the Sunday Nation.
Discussions between President Uhuru Kenyatta and Deputy President William Ruto on the new list opened with an agreement that none of the Cabinet Secretaries associated with corruption would be allowed back to their posts.
This meant that the five ministers forced out of office in March — Charity Ngilu, Davis Chirchir, Felix Koskei, Kazungu Kambi and Michael Kamau — would not be considered in the new line-up.
Joining them was Anne Waiguru who was forced out two weeks ago after the much publicised National Youth Service scandal.
SIX SLOTS TO FILL
That meant the two Jubilee coalition leaders had at least six slots to fill, although they eventually created one more ministry, raising the number of ministers to 20, up from 19.
In the Coast, Malindi ODM Member of Parliament Dan Kazungu, who was nominated to succeed Mr Kambi, was a compromise candidate among the coastal power-brokers close to government.
The agreement to nominate Mr Kazungu, a former top official at technology company IBM, was made following the realisation that picking some of the more vocal politicians could upset the Jubilee support base in the region and probably complicate matters for the coalition.
KAZUNGU'S ATTRACTION
The expected by-election in Malindi may also not be a do-or-die issue for both Jubilee and opposition coalition Cord, a fact which enhanced Mr Kazungu's attraction.
From Central, former MP Mwangi Kiunjuri's nomination as new Devolution Secretary is expected to achieve two aims; he helps to calm the restless Aberdare West grouping of leaders from Nakuru, Nyandarua and Laikipia Counties which had been grumbling over what local politicians claimed was neglect by Mr Kenyatta.
"The area has been a headache for the President. The nomination of Kiunjuri, a known grassroots mobiliser, is also expected to assuage the anger among some Nyeri politicians since Kiunjuri has his roots in Nyeri," a source familiar with State House thinking told the Sunday Nation.
NEW CENTRE OF POWER IN UKAMBANI
The nomination of experienced medic Dr Cleopa Mailu to the crucial Health docket is expected to have political ramifications in Ukambani politics.
Coming from Makueni county, the long-serving Nairobi Hospital boss is expected to create a new centre of power away from the traditional Kitui-Machakos axis that has dominated local politics for a long time.
The fact that Dr Mailu was one of the key advisers of Cord co-principal Kalonzo Musyoka cannot be overlooked.
It would be interesting to know whether Mr Musyoka was aware of Dr Mailu's nomination or whether he sanctioned it.
RIFT VALLEY POLITICS
Another surprise nomination was Agriculture Secretary Willy Bett who replaced Mr Koskei.
Coming from the same Nandi county as Mr Koskei, Mr Bett's selection must be understood in the context of intra-URP politics.
"Bett was fronted by Nandi power brokers who had offered Koskei to government. Ruto owes the county for its support hence their role in selecting the nominee. Apart from being MD of Kenya Seed Company not much is known about the man who will head one of the most important dockets in government. He has been given an experienced Principal Secretary to work with," the source said.
Outgoing Environment PS Richard Lesiyampe, who previously served as Kenyatta National Hospital CEO, has been appointed to take over in Agriculture.
In the same Rift Valley, Mr Ruto's right hand man, Charles Keter, has been nominated to the Energy docket. "Keter was always going to be in government, it was a matter of when, not if," the source said.
The reshuffle has, however, elicited murmurs of discontent among those close to Mr Ruto who believe that URP was short-changed.
TREASURY AT THE OFFICE OF THE PRESIDENT
They argue that Mr Kenyatta quietly increased his stake in government at the expense of URP with the appointment of Sicily Kariuki to add to the earlier entry of Eugene Wamalwa to the Water docket.
Those close to Ruto fear that there is a scheme to recreate Treasury at the Office of the President.
This, they fear, will take away the main function from Mr Henry Rotich and transfer it to OP where a former National Treasury Permanent Secretary and now Chief of Staff Joseph Kinyua runs the show.
MS KARIUKI'S PROMOTION
A State House source explained the rationale behind Ms Kariuki's promotion to Cabinet from Agriculture PS where she takes over some of the departments previously under Ms Waiguru, including the controversial National Youth Service component as well as Gender and Human Resource Development.
An amiable person, Ms Kariuki is an experienced technocrat whose style may contrast with Ms Waiguru's tough approach, although the source indicated it was felt that Ms Kariuki had the strength to steer some of the President's projects.
She previously headed the Tea Board of Kenya, among other positions she has held.
IT AGENDA
ICT nominee Joe Mucheru brings in global visibility and a youth perspective which Mr Kenyatta wants as he pushes his youth and IT agenda that was crucial during his election campaign and which is expected to play a crucial role in the 2017 elections.
Mr Mucheru previously headed Google Kenya's office where he worked mainly with youthful Kenyans.
Dr Fred Matiang'i, it is understood, was transferred to Education ministry to "save him from himself".
A hard worker who often delivered on his mandate and tough assignments given by the President such as resolving the deadly land dispute in Murang'a and lately the Waitiki saga in the Coast, Dr Matiang'i was, however, fast falling victim to land cartels that have for many years controlled business at Ardhi House.
The ICT Secretary had been overseeing operations at the Lands ministry after Mrs Ngilu was forced out in March.
Dr Matiang'i was also viewed as having created too many enemies within his previous Information docket.
Apart from having frosty relations with the media, he also quickly fell out with major players such as giant telco Safaricom which complained that he was favouring Airtel in making key decisions.
The decision not to restore any of those accused of having taken part in corruption also effectively ended the careers of a string of PSs who were left out in the cold as part of the reorganisation of the Executive.
-nation.co.ke