Chase Debate: Evolution Of The Business World.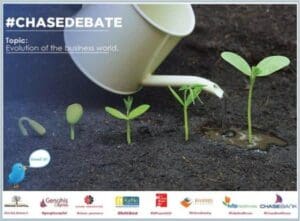 Growth is inevitable and to grow is to evolve. One cannot rest on their laurels at any given time regardless of what they have achieved. This is more so the truth for businesses, because the business world is highly competitive. In the free market that we live in, competitors are always looking for new ways of getting better and getting ahead of the game.
In a bid to stay ahead of the game, businesses must evolve and innovate. Innovation epitomizes growth. We have been blessed to live in the information age. Technology has been the key enabler of growth in businesses and through it, processes have been simplified; new products have been developed; redundant jobs have been streamlined and where possible automated. This has greatly improved efficiency at the work place.
Another thing that has been a key driver of this evolution is the customer. Over the years, the customer has evolved too, their tastes and preferences have changed to be more refined. Businesses have had to adapt to customers changing needs. Meanwhile, their disposable income has been increasing too. The middle class, which typically dictates consumption and trends, has been burgeoning.
This is what formed the basis of our Chase Debate this past Friday. Some industries and products have evolved to the benefit of individuals, businesses and the economy alike. Some of these include;
The evolution of communication.
When one talks about communication over the years, nothing better illustrates the evolution of communication better than mobile phones. What started as a product for the rich is now fast becoming a basic necessity. It is estimated that 87% of the world population are mobile subscribers (source). Mobile phones have eased communication and helped businesses enormously.
Communication is a key aspect not only in our day to day lives but also day to day business operations. Picture this, the year is 1980 and you need to contact a supplier to deliver a certain product that you've run out of due to unprecedented demand or you want to cancel a date with your friend because something has come up. How long will it take to reach the supplier, leave alone deliver or how long will it take you to reach to your friend, before going through the operator and then hoping that your friend is close to the phone booth. Fast forward to 2015. Mobile phones have helped communication between individuals become easier, and businesses become more efficient.
The evolution of banking.
While communication has evolved, so has the processes in the banking industry. This has mainly been as a result of the introduction of smart phones and the fact that we spend most of our time interacting with our phones.
Gone are the days when the bank clients would spare a day of the week to go and queue in the bank in order to make transactions, or have their transactions take days to be processed, or go through different tellers to receive different services. To kill the process, the banks have leveraged on technology to build a platform where the customer can transact without going to the physical branches. And it's called mobile Banking, because it's mobile and it's done on mobile phones. Mobile phones have now essentially became our wallets, offering more convenience and security.
Business are also benefiting from this innovation because clients can now make payments much faster, they can transfer money much faster, and as business people they can spend their time doing business rather than spending it in the bank carrying out transactions. Amazingly, mobile banking is still evolving.
The evolution of money transfer.
Not so long ago, sending money to a loved one involved complexities such as envelopes, letters, buses, post offices, coupled with hope and a couple of days in between. Right now, it done in an instant. With the creation of Mpesa, which was the first mobile money transfer service to be launched and actually work towards enabling the Kenyan community and has now trickled to the rest of the world. Banks have gone further to simplify these transactions by enabling a connection between the bank and Mpesa. So that you can now simply send money from Mpesa to your bank account or vice versa.
There has been many other money transfer services that have transformed the business of transferring money between one county to another in an instant, with the likes of Wave, Instant Cash, Xpress Money
The money transfer evolution has been a very revolutionary one for businesses as transactions lead time has improved significantly. Right now, you can transfer money from your bank account to a relative abroad when the ball rolls out of play while watching the game.
 The evolution of customer service.
Remember when as trying to reach a business to launch a complaint or request for a service was a mammoth task, because before you got through to the operator and eventually talked to the customer service representative, it had taken hours and hours of trying. And when you managed to get through the processes involved in getting a solution almost made you give up.
Over the years, businesses have tried to make their customer service better, from introducing agents, IVR (interactive voice responses), to fully fledged contact centers. And what's proving to be cheaper, faster, effective and very efficient is the use of Social Media – Whatsapp, Web Chats, Twitter, Facebook. They are also great platforms to receive feedback from customer, as well as respond in real time.
---
What more do you feel has evolved and how? How disruptive has the business world been in your view and how has it affected you?
-http://chasestories.chasebankkenya.co.ke/chase-debate-evolution-of-the-business-world/