God will revenge for me, says Charity Ngilu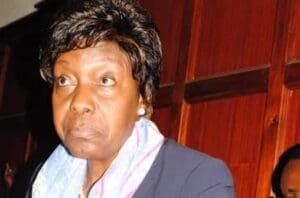 Former Lands Cabinet Secretary Charity Ngilu has broken her silence and told those responsible for her current woes that God will revenge for her. Ngilu said nothing will stop her from serving Kenyans, whether she in the Government or not.
"Do not worry about those who did what they recently did to me because vengeance belongs to God," she said in reference to her sacking from the Cabinet.
Speaking at Mulutu Primary School in Kitui Central during a funds drive at the weekend, she vowed that no amount of tribulations would derail her cause to continue in public service.
She said there was no point to expound on her resolve in making sacrifice towards attaining her desired goal. "I want to thank those who have kept praying for me during the hour of tribulations. At such moment, you come to realise your true friends and those who are not," she said.
She steered clear of a request by the county assembly Speaker George Ndotto who urged her to officially disown the Jubilee Coalition and join former Vice President Kalonzo Musyoka's Wiper Democratic Party in order to consolidate the Kamba vote in the countdown to 2017 General Elections.
Nairobi Deputy Governor Jonathan Mueke accused the Government of using tyranny of numbers in the National Assembly and Senate to oppress Kenyans and maintain their grip in looting the country through orchestrated corruption.
The deputy governor urged the Kamba community and Kenyans at large to rise with time and acquire national identify and voters' cards "if this nation will be redeemed from the bad leadership and oppression."
He called for unity of purpose among the Kamba leaders ahead of the next polls, "if one of your own will have a stake at the presidency.
-standardmedia.co.ke