Homes raided, cash netted in Sh790m NYS fraud probe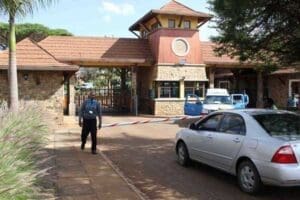 Bundles of cash were among items recovered in raids on the homes of top government officials and businesspeople linked to the National Youth Service scandal.
The homes of 12 people were raided, among them that of former Devolution Cabinet Secretary Anne Waiguru, in a dawn operation by anti-corruption detectives.
Some of the houses, like that of Ms Waiguru in Kitisuru, were searched for almost seven hours.
A source could only say that electronics, documents and "money in the millions" was found.
It was not immediately possible to establish the amounts and from whose homes the money had been found.
TARGETED HOMES
In all, 16 different addresses in Nairobi were targeted.
Other prominent people whose homes were searched include Principal Secretary Peter Mangiti, NYS Director-General Nelson Githinji and his deputy Adan Harakhe.
Also targeted were the homes of Mr Henrick Polish (Principal Supply Chain Officer, NYS), Mr Simon Ndung'u (Architect, Ministry of Lands), Mr Samuel Wacheni (Director Finance NYS), Mr Noor Hassan Noor (Ministry of Devolution), Mr Dennis Kipkorir Ng'eno (Electrical engineer Public Works), Mr Samuel Odhiambo (Head of Supply Chain, Ministry of Devolution), a Mr Munywoki (Chief Accountant, Office of the President) and Mr Benson Gethi (businessman).
Journalists were stopped at the imposing entrance to Ms Waiguru's house. Three detectives searched it and took away items.
They were not only looking for documents relating to her work in the ministry but also to her previous jobs before joining the Cabinet in 2013.
The raid came just a week after President Uhuru Kenyatta reshuffled the cabinet, replacing the powerful minister a week after she tendered her resignation.
WAIGURU NOT CLEARED OF NYS FRAUD ALLEGATIONS
Ms Waiguru's lawyer Ahmednasir Abdullahi appeared briefly at her home and told journalists that she was not in the house when the search was carried out.
EACC obtained sealed warrants for the search on Monday.
Detectives familiar with the operation said EACC never cleared the former minister in the more than Sh790 million NYS fraud investigations even though Mr Abdullahi had said she could only be considered as a witness.
This was after Ms Waiguru was questioned for hours by EACC detectives at Integrity Centre days before she quit her post, citing a doctor's advice.
The detectives also said the obstruction of justice cases against Mr Mangiti, Dr Githinji and others were not instigated by the commission.
The cases were started by the Directorate of Criminal Investigations and EACC will present its cases to the DPP for possible prosecution when investigations are complete, the sources said.
Two houses belonging to Mr Mangiti, in Karen and Royal Park Estate, Lang'ata, Dr Githinji's home in Riverside Estate and Mr Harakhe's home in Nasra Estate on Kangundo Road were also searched. Detectives took away documents.
MULTI-AGENCY TEAM TO SPEED UP INVESTIGATION
EACC later said it had established a multi-agency plan to speed up the investigation and prosecution of corruption and economic crimes.
EACC will work with the Office of the Director of Public Prosecutions, the Directorate of Criminal Investigations and the National Intelligence Service.
Officers from the Financial Reporting Centre, the Asset Recovery Agency and those from the Kenya Revenue Authority have also been incorporated in the plan.
EACC boss Halakhe Waqo yesterday said the team held several meetings and developed measures which were being implemented.
"This effort is set to be cascaded to the county and regional level," Mr Waqo said, adding that a three-day workshop for county and regional heads of their respective departments and which will end on December 4, had commenced at Mt Kenya School of Adventure and Leadership.
Mr Waqo said he was confident that the special collaboration would help combat corruption.
Mr Mangiti and Dr Githinji were charged on November 18 with attempting to induce Mr Adan Harakhe not to follow up the matter relating to the conspiracy to steal from the government.
The two denied that between May 27  and June 19, they attempted to induce Mr Harakhe to fail in his duty by dissuading, threatening and intimidating him with consequences should he continue following up the matter relating to the conspiracy to steal Sh695,400,000.
-nation.co.ke