Martha Karua denies Sh7.6 million BAT kickback for presidential campaign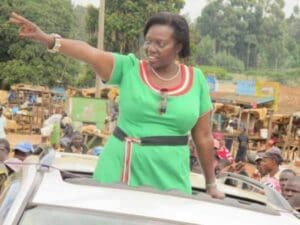 Narc Kenya leader Martha Karua allegedly received a Sh7.6 million (£50,000) bribe from BAT while campaigning for president in 2013 to stop a rival company from giving Kenya technology to fight tobacco smuggling.
The Independent reported that the allegations against the Narc Kenya leader who was then Justice minister, are in a BAT corruption dossier that a whistleblower submitted.
The whistleblower, Paul Hopkins, gave the dossier to Britain's Serious Fraud Office.
Karua allegedly received the amount in cash from a middleman, while the BAT listed them as management fees and costs of anti-smuggling activities.
The Independent said British American Tobacco was supplied with documents on the five-yearSh15.2 billion (£100 million) technology contract in return.
The contract is said to have then been delayed while the company pushed for its own.
It is said that Hopkins and BAT senior regional officer Naushad Ramoly held a meeting with a member of Karua's campaign team and that the meeting was recorded.
But the member identified as Mary Mukinda said she was not aware that BAT had made any payments to Karua. Ramoly also denied the claims.
Karua's lawyers said she met Hopkins after the payment was made but denied that she knew why it was made.
Via Twitter on Saturday, Karua said: "I am not aware that any donation to my campaign was in pursuit of criminal intent. It is being handled; I will give my side of the story and take it from there nothing to hideaway."
The Narc Kenya leader said the matter was being handled by her lawyers and asked people to desist from insulting those they don't agree with.
She said someone in her presidential campaign back them appears to be under investigation in the UK for BAT bribery scams but noted she had no knowledge of it.
"This is false with regard to me. However I have now learnt that a person who was part of my campaign is under investigation," she said.
Expert Anna Gilmore, whom the Independent quoted, said BAT wanted to win the contract to control Kenya's efforts in addressing illegal trade.
The company's agenda was allegedly to win the contract for replacing the stamp on cigarette packets, so at to have weight on similar contracts.
Gilmore, of the University of Bath, said BAT "cannot be trusted" and that its alleged pursuit was "akin to putting the fox in charge of the hen house", but the company said it will investigate all bribery claims.
BAT expects integrity from its employees, said a former lobbyist who was implicated in bribery allegations against Bungoma Senator Moses Wetang'ula, but denied the allegations.
Wetang'ula was mentioned in a BBC investigation as one of the MPs who allegedly received "favours" from BAT during his tenure as Trade minister in 2012. He denied the allegations.
In her response to the claims, Julie Adelle-Owino dismissed Hopkins saying he turned whistleblower after falling out with the company "as the BBC pointed out".
She said his claims should not "be accepted without question".
-the-star.co.ke