VIDEO:PRESIDENT KAGAME AND WIFE ON THE DANCE FLOOR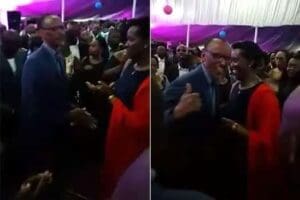 VIDEO:PRESIDENT KAGAME AND WIFE ON THE DANCE FLOOR
A new video has surfaced on social media showing the fascinating moment Rwanda President Paul Kagame and his wife Jeannett showed their prowess on the dance floor.
The undated video was posted on Facebook by A Mr Munyazogeye Louis de Gonzague on Monday and has attracted innumerable comments and hundreds of shares.
It shows the Rwanda head of state dancing to contemporary music including a 2014 remix of Shaggy's It Wasn't Me.
Many who have watched the clip agree on one thing: the couple rhymes to the beat.
-nairobinews.nation.co.ke