New NYS boss suspends nine senior directors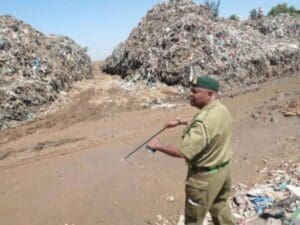 CONTROVERSY has rocked the National Youth Service yet again, after newly appointed Director General Richard Ndubai suspended nine senior officers for "being anti-change", only a week after taking office.
The officers were swept aside in a wave of far-reaching changes, even as it emerged that NYS Deputy Director General Sam Michuki had promoted himself to the non-recognized title of Senior Deputy Director General.
According to insiders who spoke to the Star, the position has never been gazetted and therefore does not exist within NYS ranks.
The affected officers, all of the rank of Senior Deputy Director, were suspended last Thursday for a period of 90 days in one of a number of swift drastic changes in an institution dogged by massive corruption allegations.
Those shown the door include Stephen Mutunga (Administration), Enock Luseno (commanding officer Mombasa Technical College), Nicholas Ahere (Finance) and Cleopas Kemboi, senior deputy Director in charge of Transport at NYS Headquarters.
Others are David Awori (Senior deputy Director commanding the Bura/Tana River projects), Chabari (senior Deputy director HR), Sospeter Mabea (Senior deputy Director in charge of operations in Mombasa), Madam Kirigati (senior Deputy director audit and inspection) and senior deputy Director commanding the Engineering Institute Jame Momata.
With the exit of the nine senior officers responsible for overseeing the administrative functions of the institution, Ndubai is now left with only two senior deputy Directors, given that James Ounde, a senior officer of the same rank, is on terminal leave pending retirement.
It was unclear how the senior officers were suspended before they even met their new boss, amid concerns that the changes could bog down expected reforms at the Ruaraka-based institution.
This is because there could be serious transitional challenges due to loss of institutional memory after Claire Lwali, who stepped in after the resignation of Nelson Githinji, was also controversially moved to the Ministry of Youth and Sports headquarters.
"The suspensions are suspect because the new Director General has not even met lecturers, leave alone staff," said the source on condition of anonymity.
It also emerged that the NYS IFMIS system – the on-line public finance management platform – has been shut down and senior officers stripped of authority to incur expenditure, resulting in a serious financial crisis.
For instance, the passing out parade for NYS recruits is five months overdue, reportedly for lack of funds to buy graduation kits, including uniforms, spades and boots.
"The recruits were supposed to have graduated in August last year but that has not happened," the source, familiar with the unfolding scenario at the troubled NYS, said.
Some NYS workshops are reported to have been closed down for lack of fuel to run machines, while the tipper lorries ferrying garbage in the ongoing city cleanup exercise have not been serviced for a long time.
"Oil filters have never been changed and there is no money. The grant from China will also
-the-star.co.ke