Nyaoga sues Raila over Eurobond theft claims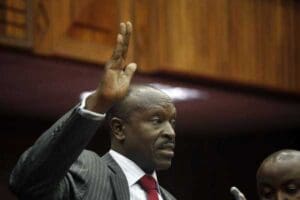 Central Bank Chairman Jairus Mohamed Nyaoga has sued Cord leader Raila Odinga for defamation.
Mr Nyaoga is seeking an apology or withdrawal of claims Mr Odinga made that linked him to the loss of Eurobond billions when he named him a person of interest in the matter.
In the case filed at the High Court in Nairobi on Monday by his law firm Mohammed Muigai Advocates, Mr Nyaoga wants Mr Odinga to 'forthwith and publicly make a full, suitable, complete and an unconditional withdrawal' of his claims.
Besides the apology, he is seeking unstated compensation and an order stopping the former prime minister from causing any further publication of the remarks.
'PERSONS OF INTEREST'
On January 14, Mr Odinga named people he said are persons of interest in the saga. They included senior government officials whom he claimed had stolen the Eurobond funds.
At some point, Mr Nyaoga said he thought Mr Odinga had confused him with Mr Gerald Nyaoma, whom he said was involved in the Eurobond negotiations.
The CBK boss later threatened to sue Mr Odinga after he clarified that he was referring to him.
"Unless restrained by court, Mr Odinga intends to continue or repeat the said unlawful acts. The words and representations complained of were made and published maliciously," said Mr Nyaoga.
The persons of interest Mr Odinga listed included: head of public service Joseph Kinyua, Treasury CS Henry Rotich, his PS Kamau Thugge, CBK director of financial markets John Birech, CBK financial markets manager Moses Muthui, Controller of Budget Agnes Odhiambo, chief accountant at the Treasury Bernard Muiruri Ndung'u, the Accounting Unit official at the Treasury Julius Kilinda and former CBK governor Njuguna Ndung'u.
In his case documents, Mr Nyaoga argues the Ethics and Anti-Corruption Commission and the Director of Public Prosecutions recommended  closure of the file on investigations into Eurobond allegations excluding him on January 7. He said he had  no access to Eurobond transactions or cover ups related to the missing billions as alleged.
-nation.co.ke