Waiguru sues Muthama over Uhuru 'love affair'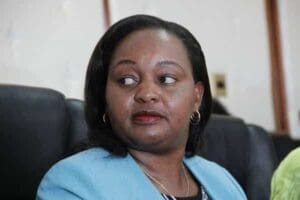 Former Devolution CS Anne Waiguru has sued two Cord politicians caught on video suggesting she was having a clandestine affair with President Uhuru Kenyatta.
Waiguru, who resigned in November following months of sustained pressure over corruption allegations in her ministry, is seeking unspecified millions of shillings as compensation from Senators Johnstone Muthama (Machakos) and Bonny Khalwale (Kakamega).
She said the statements made by the two not only damage her character but have caused her family anguish and distress.
In the defamation suit filed at the High Court yesterday through the law firm of Mohammed & Muigai Advocates, the former powerful CS is seeking general, exemplary, aggravated and punitive damages.
The claims were made during a Cord rally on September 23, 2015, in Uhuru Park, Nairobi. The rally was called by Cord principals Raila Odinga, Kalonzo Musyoka and Moses Wetang'ula in solidarity with the teachers' strike.
In their separate speeches, the duo suggested Waiguru had a clandestine affair with President Kenyatta.
Waiguru says Muthama stated, "Mr President, you are the only person who knows the amount of money that was pocketed by Anne Waiguru. All I am asking is, is Waiguru sweeter than honey?"
She accuses Khalwale of stating, "We Kenyans want you to tell us what is this special relationship you have with this woman called Waiguru.
"Uhuru has taken twenty-five billions and has given it to this woman."
She says the false and injurious statements were broadcast live on television and republished in various media outlets, on social media and several websites worldwide without making any attempts to verify their accuracy.
"I was shocked to hear the two address a crowd at Uhuru Park and accuse me of being a thief, corrupt and an embezzler of public funds. They spoke about me in derogatory terms alleging that I was immoral, promiscuous and engaged in immoral conduct," she says.
She says the claims "caused and continue to cause me distress, great hurt and anguish".
Waiguru added that the claims affected her working relationship with her colleagues.
She said throughout the rally and afterwards several people, including her family and friends, called her to ask if the assertions were true.
At the time of the allegations, Waiguru said, there was indeed an issue of misappropriation of funds in the Devolution ministry, which she had reported to the police for investigations.
Her contention is that both Muthama and Khalwale should have waited for the conclusive report of the officers who were investigating the NYS scam before "concluding I was the embezzler of the missing funds".
She says throughout her time as Devolution CS, she upheld integrity and conducted her duties with honesty and dedication.
"I have never embezzled or stolen any money from anyone, whether in this alleged instance or at all. Their words were baseless and only calculated to injure my hard-earned reputation," she adds in the affidavit.
She also wants the court to compel both Muthama and Khalwale to apologise publicly for tarnishing her good name.
-the-star.co.ke