Ayub Mohamud: Kenyan Teacher Eyes Sh102m Nobel Prize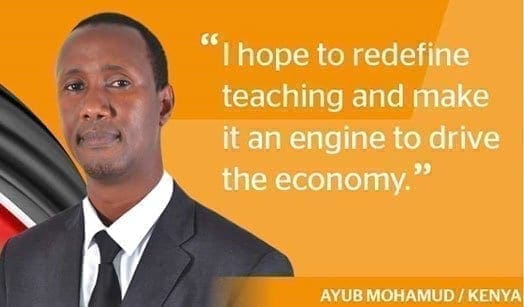 In late 2013 schools in Nairobi especially at Eastleigh were targets for recruitment by Al-Shabaab terror group.
However, one teacher Mr Ayub Mohamud of Eastleigh High School understood the threat and started lessons to counter religious extremism.
For that daunting but insightful task, Mr Mohamud is now among top 10 finalists for the profession's topmost  award – the Global Teachers' Prize – whose take-home package is Sh102 million.
Mr Mohamud, who has been at the school for three years could be named the world's most exceptional teacher this year, in an event set for March 13 this year in Abu Dhabi.
Mr Mohamud, who teaches business studies and Islamic religious education at the school says he is excited about the recognition.
"My desire as a teacher has been to ensure that students leave school and become better members of the society. I was late in applying for the best teacher last year but this time I made sure I put in my application on time," he said.
He established Teachers Against Violent Extremism, an anti-terror network, and is the patron of a grassroots youth empowerment initiative.
Mr Mohamud has also helped implement engagement programmes in schools and developed a lesson plan teachers can use to incorporate de-radicalisation messages into key subjects such as Islamic Religious Education.
OTHER FINALISTS
The top 10 teachers were chosen from among 8,000 applications across 147 countries.
Mr Mohamud said he decided to become a teacher so that he could be part of the solution to perennial teacher's shortage in Northern Kenya.
After university, he taught for seven years in the region before being moved to Nairobi.
"In Eastleigh, there was a lot of radicalisation, activities of violent extremism and grenade attacks. As a teacher, I realised that the school was part of the community," said Mr Mohamud.
Mr Mohamud is also passionate about innovation, design and creativity.
He tries to equip students with the skills to become successful social entrepreneurs.
Other finalists in the competition are Hanan Al Hroun and  Aqeela Asifi (both of Pakistan), Robin Chaurasiya (India), Joe Fatheree (USA), Colin Hegarty (UK), Richard Johnson (Australia), Marit Rossi (Finland), Michael Sokil (USA) and Kazuya Takahashi (Japan).
The first winner of the Prize in 2015 was US teacher Nancie Atwell, who donated the $1m prize money to a school she set up in Maine in the US.
Ayub Mohamud: Kenyan Teacher Eyes Sh102m Nobel Prize