UPDATE: Kenyan Woman Monica Nyambura Kinyanjui Passes Away In UK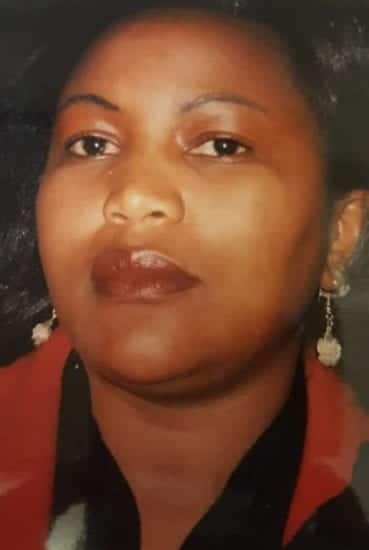 It is with humble acceptance of God's will that we announce the passing to Glory of Mrs. Monica Nyambura Kinyanjui on the 8th of February 2016 at Lewisham hospital London after a long battle with cancer.
Monica was born on 03/06/1966 to the late John Kinyua & Rosemary Wambui Kinyua of Gakira, Kangema. Wife to James Kinyanjui of New Cross London, the former chairman of Sekaf Community.
Mother to Eugene Karumba, sister to Mrs Elizabeth Kihara & late Fredrick Kihara (Nairobi), Mrs Cecilia Munene & Dr Charles Munene (Nairobi), Mrs Terry Kisoso (Austin Texas), Mr Joseph Kamau Kinyua (London) & Mrs Anastasia Kabura Kamau (Nyahururu), Reverend Dr Paula Kibira & Dan Kibira of Kingdom Wall Builders(London & Kenya), Margaret Wairimu (Downham), Mr. Simon Kimani & Jane Wambui Kimani (Gakira Kangema), late Patrick Kiarahu, Kamau & Nancy (New Castle);
Sister in law to Tony Karumba & Martha Wairimu of Finchley, auntie to Carol & Billy Thande(Kenya), Rose & Mwaniki (Dallas), Rose & Martin Mburu (Kenya), Ken, Chichi, Alex, Remmy, Barbara, Nickolas (all in London), Ian (Germany), Charity, Nicholas, Brian, Happiness, Rosa Maria Kamau (all in USA), Joe, Joy, Miriam and Michael, Njeri Kamau & Njeri Kim (all in Kenya) among many others.
Family, relatives, friends and well wishers are meeting daily from 6pm to 9pm for prayers and funeral arrangements at Flat 4, Hammond House, Lubbock Street, New Cross, London SE14 5HY. A fundraising is being held on Saturday 20th February 2016, from 5 PM to 9PM at the address above.
For financial support/donations; please use account; James Kinyanjui, Barclays Bank no. 20855251, sort code 20-49-81 For condolences, prayers and any information to the family, please contact: Ken: +447766193558 Rev.Dr Paula Kibira: +447778736607 James: +447508040199
Burial ceremony will take place in UK on Tuesday 23rd Feb 2016. The funeral will take place at Grove Park Cemetery Chapel, Marvels Lane, London SE12 9PU. The service starts at 11am – 12 noon and burial follows immediately after at the same venue.  This will then be followed by refreshments at All Saints Center Newcross SE14 5DJ from 1:30pm – 3:30pm.
Rev 21:4 "He will wipe away every tear from their eyes, and death shall be no more, neither shall there be mourning, nor crying, nor pain anymore, for the former things have passed away."


Africa Welfare Association is a pioneer provider of services to it's Diaspora members in the event of loss of a loved one. We are entrusted with the welfare of the African Diaspora globally.
We are entrusted with the welfare of the African Diaspora globally. AWA was set up in response to the ever-growing demand for services at a critical time. With trusted partners, AWA will offer you benefits wherever you are in the world.
Alleviate stress with AWA
At some point, we have been with a grieving family or friend and come to learn that none of us are ever prepared to leave this world. When the time comes, we shall leave everything including our loved ones behind. With proper planning, you can alleviate the burden of the expense associated with your untimely departure at a time when your family and loved ones are grieving
UPDATE: Kenyan Woman Monica Nyambura Kinyanjui Passes Away In UK