CITY ENTREPRENEUR HELPS PHOTOSHOP GIRL TO GET HER DREAM CHINA TOUR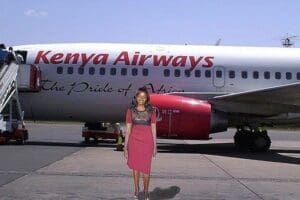 A woman who just wanted to visit China but couldn't afford the trip and instead Photoshoped herself in different locations in China can finally smile.
NaiLab founder Sam Gichuru raised enough money through his friends for her to visit China.
The woman, only identified as Sevelyn (Gat's), became an instant hit and the butt of ridicule to the never forgiving social media community after her photos started making rounds on the internet.
"Today, I wished I could buy you a ticket, but I can't afford it, the good news is I have friends, many friends, So, I have harassed all my friends, so much, I think I have lost half of them, but they are amazing people. I'm collecting frequent flyer miles and commitments," Sam wrote on his Facebook page.
He also confessed that he was a dreamer like her and that he liked dreamers.
"I like dreamers because I'm a dreamer and my weekend dream is your ticket to Hong Kong (or Beijing), China. If you were serious, I mean really serious, I have good news for you, get your passport ready because your dreams are about to come true."
According to Sam, Sevelyn is a nice, ambitious humble, daughter of a farmer who asked her friends to Photoshop her in China because she felt like she was there on those photos.
His final post was to Sevelyn; "we have raised enough in cash and kind to send you to China, travel, accommodation (4star), travel insurance and pocket money and probably a visit to the Kenyan embassy in Beijing to meet the Kenyan Ambassador to China (to be confirmed -praying). So, now it's all up to you Seve Gats."
-nairobinews.nation.co.ke