FERDINAND WAITITU: HERE IS PROOF OF MY UNIVERSITY EDUCATION IN INDIA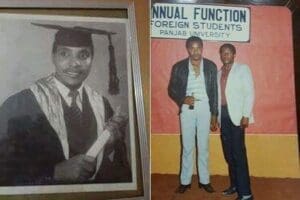 Are these photos of Kabete MP Ferdinand Waititu during his days at Punjab University in India?
If formally verified, this evidence could come in handy for the Kabete MP, considering Kiambu Governor William Kabogo has already filed a case in court challenging his academic qualifications.
Kabogo, in his suit, alleges he studied at the same institution at about the same time Waititu claims to have been there, but never saw him.
In the pictures released on Saturday, a relatively young Waititu is seen dressed in a graduation gown.
Another picture shows a young Waititu with a friend at an annual function of foreign students in 'Panjab University".
Nairobi News could not independently verify authenticity of Waitutu's  photos.
Waititu, christened in local circles as "Baba Yao" or "instant justice Embakasi style" has rubbished Governor Kabogo's  claims and suggested the latter is scared of the political competition he offers.
Waititu is said to have trained his sights in unseating Kabogo come 2017.
The Kenyan law specifies that those seeking gubernatorial seats should at least have a University degree.
The Independent Electoral and Boundaries Commission used Waititu's degree from the Punjab University clear to vie against Nairobi Governor Evans Kidero in the 2012 general election.
-nairobinews.nation.co.ke