Forget presidency after being 'beaten' by wife, Bifwoli tells Wetang'ula
Forget presidency after being 'beaten' by wife, Bifwoli tells Wetang'ula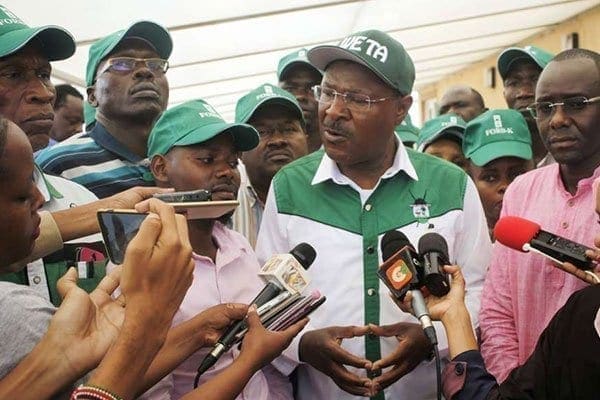 Former Bumula MP Bifwoli Wakoli has told Bungoma Senator Moses Wetang'ula to forget his presidency bid after an alleged beating by his wife.
Wetang'ula recorded a statement at Karen police station after claiming his wife beat him upin February.
Wakoli, Kenya Water Trust Agency director, said the incident was a big embarrassment to the Mulembe community.
"In Bukusu culture, if a woman, especially your wife, beats you up you are done completely and cannot say anything in front of elders," he said.
Wakoli added that in the culture, if you are beaten by your wife you cannot report to the police.
"A man who wants to be President should put his house in order," he said during a funds drive at Mabanga church on Sunday.
Wakoli said he would rather not vote than vote for a Bukusu man who has embarrassed the community.
"I cannot support such a man even if he wants to be an MCA," he said, adding he will vote for President Uhuru Kenyatta in the 2017 general election.
The director urged women not to beat their husbands, telling them "love them as the Bible says".
Some Bukusu elders have said they will perform a cleansing ritual to protect Wetang'ula's children, whom they say may inherit the "curse".
Trans Nzoia woman representative Janet Nangabo said men who are not responsible and are vying for national leadership should be dealt with accordingly.
"If you men cannot handle some things, it is better to leave them to us," she said.
Bungoma woman representative Reginalda Wanyonyi said cases of gender violence have increased.
They need to be dealt with in a sober manner, Wanyonyi said, and urged women to solve marital problems amicably.
"We cannot have women beating up our leaders until they report to the police," she said.
Wanyonyi said funds for affirmative action given to women representatives will educate residents on GBV.
She said cases of men being beaten by their wives also need to be addressed.
Present were Water Cabinet Secretary Eugene
Wamalwa and Bungoma Governor Kenneth Lusaka.
Forget presidency after being 'beaten' by wife, Bifwoli tells Wetang'ula