Manoah Esipisu Biggest Loser after Eric Kiraithe's Appointment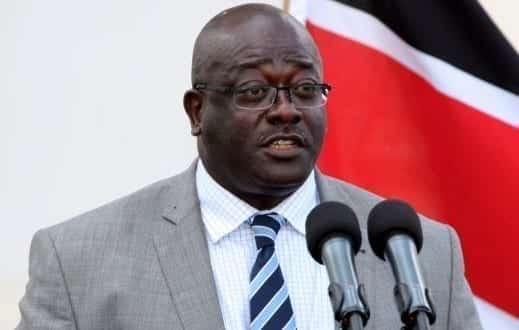 ​Manoah Esipisu Biggest Loser after Eric Kiraithe's AppointmentState House Spokesperson Manoah Esipisu's work now starts and ends at State House after the appointment of Eric Kiraithe as National Government Spokesperson who will be in charge of government communication.
The appointment of Mr Kiraithe as National Government Spokesperson has thrown the spanner in the works at State House communication department, leaving the Mr Esipisu as the biggest loser.
Mr Esipisu's role has shrunk significantly, as he is now limited to addressing the nation at state house, through press briefings touching on state house and presidential matters only.
Mr Kiraithe will take the lion's share of the government communication work as the official statement communicating the appointment and released by Nzioka Waita for Chief of Staff and Public Service Joseph Kinyua reads.
"The office of the National Government Spokesperson will function from the State Department of Interior and Coordination of National Government while the Office of the State House Spokesperson will remain within the Executive Office of the President," it states.
"The appointment of National Government Spokesperson has made significant changes to the communication architecture to make sure timely, consistent, coherent and coördinated communication to the public on all matters on the National Government's Agenda," it continues.
Mr Kiraithe got the position because of his long and distinguished history of public service mainly in the security sector.
He is expected to take up the post immediately, and move from his current role as General Manager for Security Services at the Kenya Airports Authority.
Mr Kiraithe was a former National Police Service Spokesperson and was feared for his firm, strong and substantive answers when questioned by journalists after press briefings.
Mr Esipisu is Secretary of Communication, State House Spokesperson and Head of the Presidential Strategic Communication Unit (PSCU).
The roles of the PSCU Senior Directors – Public Communication Munyori Buku, Digital Communication Dennis Itumbi, Branding James Kinyua, Speech and Messaging Eric Ngeno and Events Ted Kwaka, however do not suffer any changes.
The Senior Directors will seemingly have a larger area of operation as compared to their 'boss' Mr Esipisu, as the directors will communicate government work.
Mr Esipisu, a long-serving journalist, who was a special assistant to the president of the African Development Bank and worked at the Commonwealth Secretariat in London, as the Deputy Director of Communication and Public Affairs and Spokesperson.
By By Anne Kanina.HTBluff Associates. #HTBluff An EMG COnsortium/Diaspora Messenger contributor