POLICE OFFICER ASSAULTED BY RUTO PILOT GETS HERO'S AWARD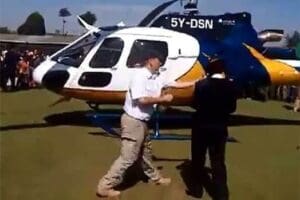 The female police officer who was assaulted by a pilot to Deputy President William Ruto in Nyandarua last month has been feted by a local Non-Governmental Organisation.
Corporal Mercy Wandera was roughed by Mr Llewelyn Alistair Patrick on February 21 at Ndunyu Njeru Stadium in North Kinangop, soon after Mr Ruto had alighted from his aircraft.
The pilot was consequently arraigned and charged before Engineer Law Courts in Kinangop after a video clip of the incident went viral on social media sparking protests and demands for his arrest.
The NGO, Aids Reality Awareness Campaign and Drugs Abuse Prevention Surveillance (ARECA-DAPS) Association, now says the police officer acted wisely by avoiding a confrontation with the Ruto pilot and preventing, what it claims, could have been an embarrassment to the DP and the local community.
HERO'S AWARD
Ms Wandera of Magumu police post will receive a Community Based Hero's Award and certificate from the NGO through  the Inspector General of Police Joseph Boinnet.
The NGO's director Dr Michael Munene said Ms Wandera was unanimously selected and nominated to receive the award due to HER outstanding and unique personality that she demonstrated.
In the letter, the NGO says even after being humiliated in front of a crowd that included children, the officer had the courage to restrain herself from reacting thus preventing a backlash from the angry cr0wd that witnessed her mistreatment.
The letter said the mob was ready to beat up the pilot who mistreated the officer and even stone the chartered plane that carried the deputy president, which they thought belonged to the pilot.
"If you had not tactfully restrained the mob, the action could have caused an embarrassment and disrespect to the DP and the entire country," said the letter.
Copies of the letter have also been sent to Nyandarua County Commissioner Mr Joseph Kimiti, Nyandarua Police Commandant Mr Hamisi Mambeya, the OCPD Kinangop police division and OCS Njabini Police station.
-nairobinews.nation.co.ke