Sonko afraid for his life after bodyguard killed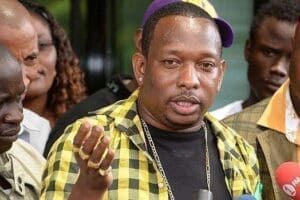 Nairobi Senator Mike Sonko is afraid for his life after one of his bodyguards was shot dead on Friday night in Mwiki, Nairobi.
Constable Bakari Joto Tsuma was shot in the forehead and died while undergoing treatment at Nairobi Hospital on Saturday. Mr Tsuma had dropped Sonko in Gigiri at around midnight and left for his residence in Mwiki, where he met his death.
Sonko and police said the officer was shot by three people, who were armed with an AK-47 rifle and pistols. They stole the officer's Ceska pistol that had 12 bullets. An analysis of the scene and wounds established the gunmen used an AK47 rifle.
Nairobi police boss Japheth Koome said they are yet to arrest those behind the killing.
"He succumbed to his injuries while in hospital and we are yet to arrest the gang behind the incident," said Mr Koome.
Sonko called for thorough investigations into the death, saying he felt his life is in danger. "An AK-47 rifle is limited to a few people. They hit him once and picked his gun before escaping and that is why I am demanding a thorough probe into the incident because it could be directed at me," said Sonko.
Sonko said he had been with Tsuma until late on Friday before he let him go home and that he was to report to work on Monday. He was later called and informed the officer had been shot near his residence and robbed of his gun.
Investigations show the attackers had been waiting before they struck and fatally wounded him as he walked into his house at about 1am.
The body was flown to Kwale for burial.
Persistent Attacks
The shooting is the latest targeting police officers in a series in the city that saw two other officers shot last week. An officer was last week on Wednesday shot and injured in an ambush by suspected thugs in a robbery incident in Highrise, Nairobi.
The officer was walking in the estate when he was confronted and shot in the abdomen. He is admitted to hospital in serious condition. Police said no arrest has been made in connection with the incident.
The shooting came a day after another officer was shot and killed in a robbery in Dandora, Nairobi.
The officer was in the company of three others.
They were pursuing a gang that had been attacking and robbing pedestrians at a bridge when he was shot. Police say the officers shot back and killed one of the gunmen and recovered a pistol.
Residents had been complaining of persistent attacks by thugs at a notorious bridge between Ngomongo and Dandora
-standardmedia.co.ke