Uhuru awards late Salah Farah the Order of Grand Warrior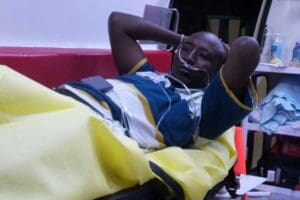 President Uhuru Kenyatta has posthumously awarded the late Salah Abdow Farah the Order of the Grand Warrior of Kenya, for his act of courage.
Mr Farah, a Muslim teacher who until his death was the deputy head teacher of Mandera Township Primary School, was shot as he shielded non-Muslims during an ambush by Islamist gunmen on a bus travelling from Nairobi to Mandera on December 21, 2015.
The award is given by the President in recognition of distinguished and outstanding services rendered to the nation in various capacities and responsibilities.
President Uhuru in his State of the Nation address said: "I posthumously award Salah Farah Order of the Grand Warrior of Kenya, Muslim killed shielding Christians."
Adding: "We are our brother's keeper. I salute Salah Farah, (the) Muslim teacher who died protecting Christians in Al-Shabaab attack."
The late hero's brother, Rasheed, speaking to Nationon phone said:  "The President himself called us Thursday at noon. He asked about Salah's five children and told me 'usijali (don't worry) we shall take care of them.' He also spoke to his wife and other family members."
Mr Rasheed told Nation on phone: "He (the President) vowed to visit Mandera to visit the children, saying they won't be forgotten. We are very happy we have not been forgotten. We are one people."
Mr Salah Farah died on January 18, 2016 at the Kenyatta National Hospital where he had been airlifted on December 22 for specialised treatment following the attack.
He had sustained injuries on his arm and hip bone, where a bullet was lodged but was later removed through surgery. He died from the injury on his hip and was buried in Mandera on January 19.
-nation.co.ke