Chief who disrespected Uhuru taken to a rehabilitation centre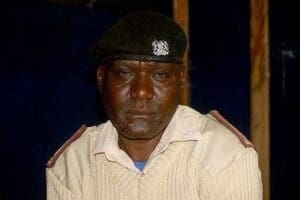 The National Authority for Campaign Against Drug Abuse (NACADA) has come to the aid of a chief who was sacked after being accused of jeorpadising the government's fight against illegal alcohol.
NACADA boss John Mututho revealed that they had taken Chief Joseph Rotich to a rehabilitation centre, to help him overcome his alcohol addiction.
The former Naivasha legislator complained over how the administrator had been fired saying that he was unfairly dismissed without considering why he was an alcoholic.
"I was touched when l saw the news about the sacking of the chief. Yes he has been a drunkard, but what are the reasons behind his drinking? Addicts should be assisted to abandon their drinking habits and given a second chance in life because indulging in alcohol is like a disease," he said.
Mututho further associated the recent chaos at Nairobi University with a drug cartel that had been operating in the institution's hostels.
The NACADA boss claimed that he was aware of close to 20 dealers who had been supplying drugs to students, leading them to engage in violent acts which caused destruction of property and injuries on some learners.
The sacked Chief from Nakuru county was kicked out of office last month, after being caught on camera rolling on the ground while drunk during a visit by President Uhuru Kenyatta.
The ex-administrator had admitted to be a drunkard and even daring Kenyatta not to bother him since he was not ashamed of his habits.
Rotich was later relieved of his duties by the Rift Valley Regional Coordinator, Wanyama Musyambo ,who termed him a disgrace and embarrassment to the government's efforts of eliminating illicit brews.
kenyans.co.ke