When President Kenyatta's 'Mr Fix It' got fixed
When President Kenyatta's 'Mr Fix It' got fixed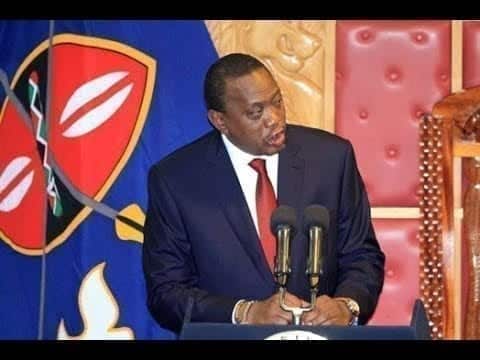 Of all the appointments made by President Uhuru Kenyatta when he reconstituted his government recently, none raised eyebrows like the sacking of his long-time right hand man Njee Muturi from the powerful post of Solicitor-General to a less visible role at State House.
First appointed by President Kenyatta on June 2013 as Kenya's eighth Solicitor-General, Mr Muturi bestrode the corridors of the State Law Office like a king, making friends and enemies in equal measure.
Attorney-General Githu Muigai might have been his boss in the pecking order but many in government knew that real power rested with his junior.
Prof Muigai was viewed as a neutral who ascended to the AG's position, not because of political patronage, but due to his wide grasp of law and many years of practice.
The former AG's close friends describe him as a professional who understood his role and spoke his mind even when his expert opinion did not augur well with those in authority.
LAWS
Mr Muturi, on the other hand, was Mr Kenyatta's personal assistant from 2002 to 2013 when he paved the way for the President's nephew, Mr Jomo Gecaga.
His own father, Mr Muturi wa Njee, was at one time an aide of Kenya's founding President Jomo Kenyatta.
For the five years he occupied the Solicitor-General's office, Mr Muturi earned himself the tag of the President's Mr Fix-It, creating laws to bolster Mr Kenyatta's powers and amending those that did not please him.
It is a posture that often put him at loggerheads with the AG who is reported to have quietly opposed some of the amendments but chose not to speak, perhaps, in order not to widen the rift between them.
The post of Solicitor-General is little understood by the public yet it is a very powerful one.
The holder signs deals and international treaties and agreements on behalf of the government.
The Solicitor-General (SG) is the accounting officer at the Office of Attorney General. It is equivalent to the post of a principal secretary.
The office holder's duties include organising, co-coordinating and managing the administrative, and, as the case may be, the legal functions of the office.
He also supervises all court cases, including appeals or petitions on behalf of the AG and is responsible for the discipline of State lawyers and other members of staff in the office.
Furthermore, the SG is usually consulted by many government officials, including parastatal heads and independent commission bosses on legal issues that might have financial implications on the country.
LEGAL ADVISERS
When he was appointed to the job in 2013, there was talk that Mr Muturi had lost favour with the President, hence the reason he was posted away from State House.
But his recent posting as deputy chief of staff at State House is proof that he has lost some favour with his boss, said a source who asked not to be named in order speak freely about his friend.
"The SG's job has clout," he said. "What exactly do you do as State House deputy chief of staff?" the friend posed.
It is not clear why the President moved Mr Muturi but our sources speculated that it could be linked to the President's desire to have a fresh team of legal advisers without baggage.
When contacted over this story, Mr Muturi was not prepared to discuss the matter, only stating that he was at ease with his new responsibilities before excusing himself and disconnecting the phone.
"Well, we have been working. I am in the middle of something, would you mind if I call you later?" Mr Muturi said before cutting off the conversation.
He did not call again or pick our subsequent calls.
DEMOTION
In an earlier conversation, Jubilee vice-chairman David Murathe had dismissed suggestions that Mr Muturi had been demoted, insisting that, if anything, his clout had been enhanced.
"He will now be based at State House and that is the seat of power. If you understand how power works, he is now in the 'Kitchen Cabinet'," Mr Murathe argued.
On the same day President Kenyatta announced that he had moved Mr Muturi to State House, he also announced Prof Muigai's resignation and nominated Court of Appeal president Paul Kihara as his replacement.
He also nominated lawyer Ken Ogeto as Mr Muturi's replacement and appointed Mr Abdikadir Mohammed, his adviser on constitutional affairs, as ambassador to South Korea, an appointment the latter declined.
In his new job, Mr Muturi and his boss, Mr Nzioka Waita, are based at State House.
"Their roles, despite the lofty titles, are somewhat diminished outside the Presidential Delivery Unit.
"The de facto boss at State House is the Comptroller, Kinuthia Mbugua. He is the AIE (Authority to Incur Expenditure) holder and as such assigns vehicles, budgets, drivers and any other issue that requires finances.
"Everyone at State House with the exception of Mr Joseph Kinyua (Head of Public Service) cannot outshine Mr Mbugua. He is also the representative of PSC at State House," a source said.
ANGLO-LEASING
The source indicated that Mr Muturi's role remains undefined and until the Executive Order Number 1 2018 is released, his work remains largely that of an adviser.
Mr Muturi's fingerprints can be traced in all major legal decisions the government made in the past five years.
He was also blamed for some unpopular ones that left the AG's office embarrassed.
When a court in England ordered the government to pay Universal Satspace and First Mercantile Securities Corporation Sh1.4 billion for the controversial Anglo-Leasing deal, the Law Society of Kenya (LSK) blamed Mr Muturi for doing nothing to stop the payment despite representing the government in court.
The President, the Treasury and the AG maintained that paying the colossal sum was the only way the country could secure the much-needed Eurobond money.
At the time, Prof Muigai defended himself and Mr Muturi against LSK accusations and denied any involvement in the saga.
"The man in front of you today is a mortician," Prof Muigai told a press conference.
"The patient died on the operating table. If you think the patient should have lived, ask the surgeons."
He then presented a statement signed by Mr Muturi and addressed to the Senate committee on Finance.
In the statement, Mr Muturi linked Kenyan businessman Annura Pereira to the two firms.
EACC COMMISSIONERS
When the controversial security laws were passed on December 2014, Mr Muturi was conspicuously present in the Speaker's gallery and watched quietly as the drama among MPs unfolded.
"Mr Muturi was all over Parliament running up and down to ensure the bill was passed," former Mombasa Senator Hassan Omar was quoted as saying.
"He became the face of the State Law Office, eclipsing his boss."
Prof Muigai, who was absent during the melee, had advised against some clauses in the controversial Security Amendments law, some of which were later declared unconstitutional by the High Court.
In 2015, Mr Muturi featured prominently in the intrigues that led to the forced resignation of three Ethics and Anti-Corruption Commission (EACC) commissioners, Mumo Matemu (chairman), his deputy Irene Keino and Prof Jane Onsongo.
Ms Keino claimed she and Prof Onsongo were summoned to a meeting by Mr Muturi, Mr Abdikadir Mohammed and the chairman of the Parliamentary Committee on Justice and Legal Affairs, Mr Samuel Chepkong'a, and asked to quit.
In turn, the two were promised ambassadorial positions as a safe landing from the commission, which now has the onerous task of investigating 175 public officers over corruption allegations.
"On March 31, 2015, I received a call at around 11.30am for a meeting and was told that Prof Onsongo had agreed to resign.
"I was also requested to resign and be given a new job as deputy ambassador to Brazil, which I flatly declined," Ms Keino had said.
However, Mr Muturi's version on how Ms Keino and Prof Onsongo left office is different.
He told the Sunday Nation then that Prof Onsongo had initially volunteered to resign, but withdrew the offer only for her to turn around and resign.
"I was shocked to read that I coerced her into resigning. Prof Onsongo wanted to resign and as she put it, she didn't want her name soiled."
AG BILL
In his last years in office, Mr Muturi, sources claimed, was behind a scheme to kick out Prof Muigai from office because of his strict application of the law even when it touches on politically driven bills initiated by the government.
The 2017 Office of the Attorney- General (Amendment) Bill that seeks to establish a procedure for removing the AG from office is associated with him.
The bill was originated by the National Assembly's Justice and Legal Affairs Committee two years ago, but its publishing last year was viewed as suspiciously targeted at ousting Prof Muigai.
It did not escape the keen eyes of observers that while the bill seeks to hand the process of removing the AG to Parliament, it cushions the SG's office by making him serve at the pleasure of the President.
This meant that while Prof Muigai could be kicked out of office by MPs, it would take President Kenyatta to sack Mr Muturi.
Despite obvious differences in opinion, Prof Muigai and Mr Muturi always maintained that there was no bad blood between them until the very end when they were both removed from office.
-nation.co.ke
When President Kenyatta's 'Mr Fix It' got fixed