Future of Cord shaky as 13 MPs attend Nakuru prayers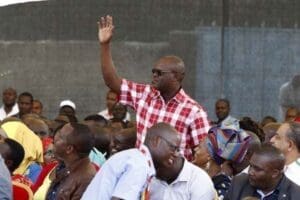 At least 13 Cord MPs broke ranks with their opposition colleagues and attended Saturday's thanksgiving ceremony for the Kenyans previously charged at the International Criminal Court (ICC), referred to as the 'Ocampo Six'.
Although they were not given a chance to speak, their presence at Afraha Stadium event that the Cord leadership criticised spoke volumes about their allegiances.
National Assembly Majority Leader Aden Duale noted the significance of their presence by naming and introducing them to the crowd one at a time.
From ODM, Karachuonyo MP James Rege's appearance was the most surprising.
Mr Rege has been criticised by his colleagues in ODM for working with rebels in the group that planned to set up a party under the name Kalausi.
That criticism has since died down but the party has sidelined the rebels.
Also notable for his presence was the Ford Kenya chairman, Senator John Munyes.
Other Cord rebel MPs — Mr Ken Obura (Kisumu Central), Ms Zeinab Chidzuga (Kwale), Mr Gideon Mung'aro (Kilifi North), Mr Mustapha Idi (Kilifi South) and Major (Rtd) John Waluke (Sirisia) attended. Mr Ahmed Abass (Ijara), who has not been labelled a rebel and is more of an independent-minded MP, was also present.
Mathare MP Stephen Kariuki has never hidden his affiliation with Jubilee despite winning a hard-fought by-election on an ODM ticket.
BACK IN THE COUNTRY
Wiper MPs present were Joe Mutambu (Mwingi Central) and John Munuve (Mwingi North), who was introduced as Wiper leader Kalonzo Musyoka's MP.
Others were Dr Victor Munyaka (Machakos Town, CCU), Vincent Musyoka (Mwala, CCU) and Francis Mwangangi (Yatta, Muungano).
Saturday, Cord, which held a parallel rally in Nairobi on Saturday, was yet to speak out on the presence of its legislators at the Afraha prayer rally.
Cord leader Raila Odinga arrived back in the country from a tour of France and the United Kingdom but declined to respond to calls and SMSs sent to him by the Nation.
However, his older brother, Nominated MP Oburu Oginga, asked Jubilee leaders to stop linking Mr Odinga to the ICC cases.
He said the claims that Mr Odinga was the one who fixed the 'Ocampo Six' to gain political mileage were misplaced.
Dr Oburu said: "Jubilee should devise a new lie. They should stop thinking that using Raila's name will make them ascend to power. I think they fixed themselves."
Speaking in Bondo town, the legislator said that Jubilee could have invited all victims and addressed them on how they are going to compensate them instead of conducting a political rally under the guise of thanksgiving prayers.
He said the Afraha meeting turned out to be "a scene to chest-thump instead of mourning with the victims and affected families".
STATE RESOURCES
Dr Oginga also criticised Jubilee leaders for using State resources at the prayer rally.
"During the campaigns, the President and his deputy said that the ICC cases were a personal problem and not Kenyans' problems. Why are they using State resources to celebrate the ICC victory as if the entire nation was on trial?" he asked.
Separately, Gem MP Jakoyo Midiwo said the 'Ocampo Six' should have started reconciling with the victims before rejoicing over their victory.
Mr Midiwo, who spoke at Sinaga on Saturday, said the utterances by the President and Mr Ruto while in Kiambu were not aimed at reconciling Kenyans.
The National Assembly Deputy Minority Leader said the public knows who fixed Mr Ruto.
"The individuals are still working in State House," he claimed. "They are still President Kenyatta's lieutenants."
-nation.co.ke