Jubilee seeks deal with Cord co-principal Kalonzo Musyoka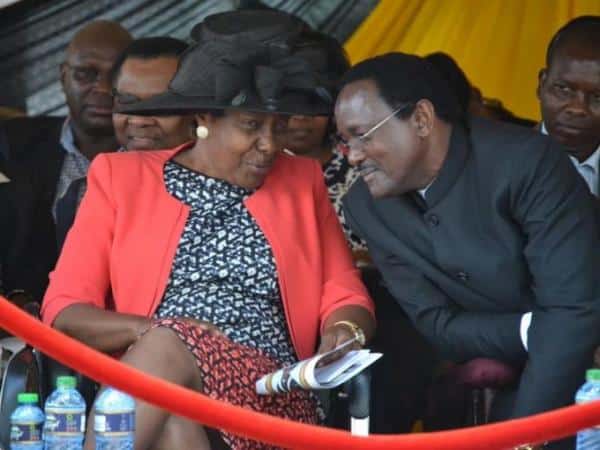 President Uhuru Kenyatta's Jubilee is scheming to snatch Cord co-principal Kalonzo Musyoka from ODM leader
Raila Odinga. The exit of the Wiper leader and former Vice President would deal a serious blow to Cord, already struggling with fractures over who among three co-principals will be its flag bearer in 2017. So far, Kalonzo is reported to have held his ground, believing that Cord is the best way into government.
Kalonzo is out of the country but last evening his spokesman Dennis Kivisu categorically denied the Wiper leader has held held any meetings or discussions with Jubilee emissaries. Jubilee is undaunted. The plan, according to sources close to Jubilee, is to have Kalonzo and his Wiper party join a Jubilee coalition for next year's election. Kalonzo would be offered the position of National Assembly Speaker, three Principal Secretaries and two Cabinet Secretaries.
Wiper would be allocated five ambassadorial posts and a number of parastatal appointments. Jubilee will also fast-track key infrastructure projects, especially dilapidated roads in Ukambani.Kalonzo's entry into Jubilee would enable President Uhuru to win by 60 percent, according to Jubilee strategists. While touring Central Kenya on Wednesday, the President said he was confident he will win by at least 70 per cent.
Uhuru got 50 per cent plus in the last election and his strategists have been working hard to win support in opposition areas of Coast, Ukambani, Western and Nyanza. "Kenyans should expect signifi – cant realignments of people leaving Cord to join us," Kigumo MP Jamleck Kamau, a close presidential ally, said yesterday. ose pushing the Kalonzo plan have a two-pronged approach.
First, they have sent emissaries to Kalonzo's close confidants in hopes they will convince him to ditch Cord. "We have spoken to people Kalonzo listens to and asked them to prepare the ground before Kalonzo is approached in person," said a Jubilee MP involved in behind-the-scenes discussions. Second, Jubilee leaders are to sideline Kalonzo and engage directly with Ukambani county leaders in hopes they will win over Wiper supporters. Then they would prevail upon Kalonzo to join Uhuru.
This second approach is already being implemented. Yesterday, Uhuru held two meetings with two sets of Ukambani leaders. In one session, Uhuru met all Kitui elected leaders, led by Kalonzo's close ally David Musila, to discuss regional development. "No politics was discussed.
The President called us after our big demonstration in Kibwezi regarding the Kibwezi-Kitu road. We
agreed with him today (yesterday) this road was a priority," Musila said. Asked about Jubilee reaching out to Kalonzo, Musila said: "I'm not aware of that and I'm also not saying it may not happen in future … He is the only person who can comment."
The second meeting was led by Joe Mutambo and included Machakos town's Victor Munyaka and Regina Ndambuki from Makueni. The Kalonzo plan was discussed in this meeting. It is understood Uhuru will meet a big Kamba delegation next month before touring the region to launch development projects.
Uhuru has toured the region thrice since his election and attended the burial of former chief of staff , Jackson Mulinge, in efforts to woo lower Eastern voters. The Star learnt yesterday the Jubilee administration has been using emissaries — Health CS Dr Cleopas Mailu and former Makueni county Secretary Professor John Muteti – to persuade Wiper leaders to convince Kalonzo to join. Mailu has been a close friend and adviser of Kalonzo over the years and is understood to have infl uence. Mailu and Muteti have separately and together met Kalonzo and discussed various political options, including working with Jubilee.
"We have to win elections, irrespective of all circumstances ahead. Our house (coalition) is open but we are still comfortable for now with the DP Ruto," Maragwa MP Peter Kamande said. He said if Kalonzo accepts the new deal and becomes Speaker, he will be the third most powerful person after the President and the DP. "We are open and when you are a visitor, you agree to our terms in the house. Actually, he is late and should have joined us long time ago to enjoy development," Kamande said. In pursuit of the Jubilee strategy, Ruto is getting directly involved in Ukambani activities, with the help of Wiper politicians and businessmen.
They include Kitui Governor Julius Malombe, Mbooni MP Kisoi Munyao, URP secretary general Fred Muteti, Kibwezi East MP Jessica Mbalu and Mutambu. Kigumo MP Jamleck Kamau said the country belongs to all Kenyans and they were ready to work with everyone. Kajiado West MP Moses Ole Sakuda said the talks are still going on, though they have taken a long time. "When you are going after a girl, you take many cups of tea but one day she will be yours," Sakuda said.
According to Sakuda, Jubilee was preparing to work with Kalonzo ahead
of 2017. But Makueni Senator Mutula Kilonzo Jnr played down the State House meeting led by Musila, saying it was unrelated with Jubilee's efforts to woo Kalonzo "People should not read much into today's meeting at State House. The goings on in Cord and the meetings are just a coincidence," Kilonzo Jnr said.
"Upward mobility in Jubilee is more Herculean than in Cord," Kilonzo said. Machakos Governor Alfred Mutua has been working closely with Jubilee. He has roped in a number of MPs including Munyaka, Yatta's MP Francis Mwangangi, Vincent Musyoka of Mwala, Benson Mbai of Masinga and John Munuve of Mwingi North in his Maendeleo Chap Chap Movement. The group argues the Kamba community stands to benefit more in government than in opposition and has asked Kalonzo to swallow his pride and join them in working with government.
Jubilee seeks deal with Cord co-principal Kalonzo Musyoka