Kenya will only hand over citizens to ICC legally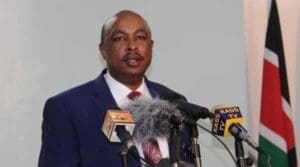 By JOSEPH MURAYA, NAIROBI, Kenya, Apr 7 – The government now says Kenyan laws must be followed before three of its citizens accused of interfering with International Criminal Court witnesses are extradited to The Hague.
Government Spokesman Eric Kiraithe says the country has clear laws on how people can be extradited to a foreign jurisdiction.
"The law must takes its course…there is no alternative answer," he told journalists during a briefing on Thursday. "There are extradition proceedings which go through our courts."
ICC Prosecutor Fatou Bensouda has renewed her appeals to the Government to hand over the three suspects saying already a warrant of arrest has since been issued.
"We obtained from the judges additional protective measures for witnesses. Following our investigations, we also sought and obtained warrants of arrest for Messrs Walter Osapiri Barasa, Paul Gicheru and Phillip Kipkoech Bett on charges of obstructing the course of justice. As noted in yesterday's decision, the accused, Messrs Ruto and Sang profited from such interference with the administration of justice," Bensouda said in a statement.
"None of the three suspects, who have been charged by the court with obstructing the course of justice in this case, has yet been surrendered to the court by the Government of Kenya."
Kenya being a signatory of the Rome Statute, she said, is obliged to arrest them and hand them over to the ICC.
She complained that her work during the Kenyan case was seriously hampered by intrigues of witness interference which caused her to lose key witnesses while others diverged from their prior statements.
Bensouda says the three must be handed over so that their "guilt or innocence of the charges against them may be independently and impartially determined in a trial."
Kiraithe on his part urged the country to focus on the termination of the case against Deputy President William Ruto and journalist Joshua Sang, a move he says will expedite the healing process.
In this regard, he called on Kenyans to join President Uhuru Kenyatta and other leaders on April 16 at the Afraha Stadium for a thanksgiving service.
"We shall not only be celebrating the long overdue decision by the ICC to release His Excellency the Deputy President and Joshua arap Sang. We shall also be celebrating our nationalist covenant, our national values and ethics," he said.
-capitalfm.co.ke