Mary Wambui breaks into tears,says she has lost a personal friend
Mary Wambui breaks into tears,says she has lost a personal friend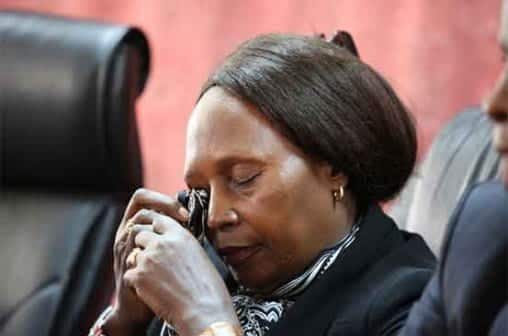 Othaya MP Mary Wambui was overcome by emotion and broke down in tears as Nyeri MPs paid tribute to Lucy Kibaki.
Wambui publicly shed tears as she eulogised Mrs Kibaki, terming her death as a huge personal blow.
"I have lost a personal friend. I know how far we have come with her and the many things she taught us, including to be courageous and fight for what is ours," Wambui said.
She added: "We condole the former President and his family. We pray that they remain strong and know they are not alone during this difficult time. We bid the former First Lady farewell and believe we will meet in heaven."
Other legislators from Nyeri paid tribute to Lucy during a press conference.
Tetu MP Ndung'u Githenji termed Lucy as a patriarch and a mother figure, while Kanini Kega (Kieni) and Peter Weru (Mathira) recognised her efforts that led to the resettlement of squatters, who for close to 20 years had lived by the roadside, having been evicted from Mt Kenya Forest.
National Assembly Speaker Justin Muturi also gave MPs a chance to offer their condolences during a plenary session.
ROLE MODEL
In the House, legislators were unanimous in heaping praise on Lucy, with Muturi Mr describing her as a role model for many, in her various spheres of leadership. He hailed her work in championing for the rights of the poor and those living with HIV and Aids.
Runyenjes MP Cecily Mbarire and Samburu Woman Rep Maison Leshoomo recounted their personal experiences with the former First Lady, saying it was through her intervention that they made it to Parliament in the 2007 General Election.
"She taught us to be brave and always speak our mind. She taught us not to fear men. At a personal level, she came to Runyenjes during the campaigns and told my competitors that she had come to personally campaign for me, asking the male competitors to quit the race for me," Ms Mbarire said.
Ms Leshoomo said: "Everybody in this country knows that she is the one who made me get nominated. She came to Samburu and identified me as a leader and I owe it to her."
Siaya Woman Rep Christine Ombaka said the former First Lady would be remembered for her strong defence of her family and family values.
"She strongly stood for family values and that is an admirable part of her life," said the legislator.