Raila accuses ICC of refusing to use recanted evidence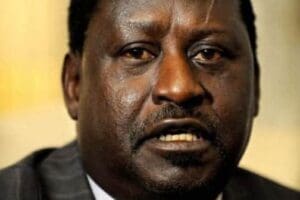 CORD leader Raila Odinga has accused the International Criminal Court (ICC) of refusing to use recanted evidence.
The Opposition leader also said killings and intimidation of witnesses were the reason the ICC cases failed.
The court failed to try individuals accused of perpetrating the 2007 post-election violence that claimed over 1,000 lives.
The court refused to use recanted evidence in the case against Deputy President William Ruto and journalist Joshua Sang despite being allowed by Article 68 of the Rome Statute.
"To the international justice, it spells doom because it basically means that anybody can be accused and if you can find a way of intimidating witnesses and killing them, you then go scot-free," he said in an interview with France24 TV.
He added: "There is Article 68 of the ICC Statute that allows them (ICC) to use recanted evidence. The court refused to use recanted evidence in this case and then came up and said it was mistrial," he added.
Raila termed claims by the African Union that the court was unfairly targeting African leaders as "hogwash", observing that it was the continent leadership that was taking its people to The Hague-based court.
He gave the example of Uganda where President Yoweri Museveni referred the leader of the Lords Resistance Army (LRA) Joseph Kony to the international court.
In the Kenyan case, the Opposition chief said leaders refused to put up a local tribunal to try the perpetrators of the political violence that was occasioned by the disputed presidential election results.
DP Ruto was among the leaders who opposed the formation of a local tribunal with his clarion call "Don't be Vague, Let's go to the Hague".
"We refused to set up a tribunal to try the cases forcing Koffi Annan to take the case to the ICC," he said.
-standardmedia.co.ke