REVEALED: Sang Now Wants Political Seat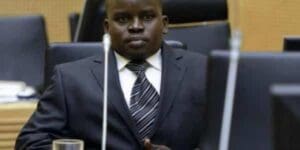 Barely a day after the ICC case against Joshua Sang and his co-accused William Ruto was dropped, the radio journalist is now contemplating running for an elective office in next year's General Election.
On Tuesday, Sang reportedly stated that he was considering making the bold move into politics.
"You never know, perhaps I could vie for one of these big seats in my home county of Trans Nzoia. But that is a story for another day," he remarked as quoted by The Standard.
An ecstatic Sang could not control his delight, breaking into tears after Trial Chamber V of the International Criminal Court declared the case against them a mistrial.
The journalist is now eager to move on from the case that has derailed him for nearly seven years.
It is also said that the former KASS FM presenter could take his old job back should the opportunity present itself.
Sang was accused of using his talk show at KASS radio to fan the 2007/2008 violence by spreading hate messages and propaganda against the Party of National Unity (PNU), that expressed the desire to expel a particular community from Rift Valley.
Dairy farming, a venture that he had plunged into at home while on trial, is another undertaking that he is contemplating to do full time.
"I also learned a lot while at The Hague about dairy farming. You know the Netherlands is one of the countries that is good at dairy farming which I admire so much," remarked Sang.
-kenyans.co.ke