SIX THINGS WE LEARNT FROM COLLYMORE'S WEDDING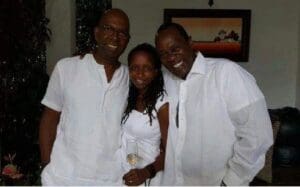 It came as a shocker after photos of Safaricom boss Bob Collymore's wedding with Wambui Kamiru were shared on social media a day after the big day.
Many were unaware as no blog or media house ran the story before the wedding day. Here are things that you can learn from the millionaire's wedding:
Simplicity is key – Everyone agreed that the ceremony was kept as simple as possible, at least judging from the photos that were shared on social media.
The bride donned a white dress as opposed to those bank breaking gowns and the cake was a simple air brushed three tier cake. Impressive for a man who earns Sh10 million a month.
Loyal friends matter – The wedding had the who is who in showbiz and business circles but none uttered a word until the ceremony was done and the couple away on honeymoon.
News about the wedding started spreading on Sunday after all had been done and dusted. Ordinarily some spoilers start tweeting congratulations before the day starts giving the blogs a hint.
Your life, your business – Despite being a big deal in Kenya, Mr Collymore didn't advertise his upcoming wedding to everyone who cared to listen.
He wisely picked up a few friends who would witness the day and perhaps even briefed them that it was him wedding and not the company hence no one else needed to know.
-nation.co.ke