This Kanjo Askari deposited Sh18 million on M-Pesa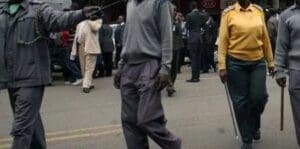 This Kanjo Askari deposited Sh18 million on M-Pesa
In three short years, a lethal combination of violent extortion and greed has turned Nairobi City County inspectorate officers who earn about Sh30,000 a month, into millionaires.
Through maiming and sometimes killing of hawkers, these officers have made a fortune with a significant share of it ending up in the pockets of family members. The illicit income is transferred to beneficiaries through M-Pesa.
The M-Pesa transaction logs obtained by Africa Uncensored give interesting insights into how liquid cash generated from bribery and extortion finds its way to the legal market.
Between 2013 and 2014, Benson Ambani Akasi, the kingpin of the extortion racket, deposited Sh2,804,181 into his M-Pesa account. The deposits for the following year almost tripped to Sh6,666,709. But the 2015-2016 year was his best yet. He raked in a staggering Sh8,863,999. This means that within three years, Akasi, popularly known as Wasiwasi, deposited Sh18,334,889 in his M-Pesa account!
This amount places him in a position where he can solely afford to buy Kenyan hospitals 61 dialysis machines. One dialysis machines costs about Sh300,000. Over one million Kenyans have kidney disease, according to the Ministry of Health.
With transactions worth Sh738,000 a month and a salary of Sh30,000, Wasiwasi, handles on his phone 24 times the amount of money he earns in monthly wages.
Lack of a mechanism to check the accumulated wealth of inspectorate officers against their wealth declaration is one of the loopholes through which bribery and extortion have gained ground.
"It is the responsibility of an individual officer to declare his or her wealth annually. The Inspectorate is not involved," said Nairobi City Inspectorate Director, Hilary Wambugu, adding that, "Information on the officers' wealth can only be obtained from the Public Service Management."
From Wasiwasi's M-Pesa records, one name, Njeka Amakove, stands above everyone else as having received the largest amount of money from his number in 2015: Sh1,868,697.
A phone call to Amakove's phone number by Africa Uncensored CEO John Allan Namu revealed that the former is Wasiwasi's son.
"I don't know where he is," said Amakove curtly when asked of his father's whereabouts.
The M-Pesa records also unveiled the transactions of Alfred Marenya, another senior member of Wasiwasi's gang. In 2015 alone, he received Sh4.8 million in his M-Pesa account. The largest beneficiary of funds transferred from his account is Isaac Karanja, who received Sh 2,261,400 from Marenya between January 1 and December 31, 2015.
The string of transactions between the two forms an interesting pattern, where Marenya, upon receiving money in his M-Pesa account, transfers it to Karanja shortly thereafter. For instance, on April 11, 2015 at 5:29pm, Marenya had a deposit of Sh14,000 made in his M-Pesa account. Six minutes later, he sent the entire amount to Karanja.
On the next day, two deposits of Sh4,000 and Sh6,450 respectively were made into Marenya's account, bringing his balance to Sh10,450. In less than 10 minutes, Marenya had sent Sh10,200 to Karanja. By the time of publishing this story, we had not established who Isaac Karanja is.
Another major recipient of money transfers from Marenya's account is Jamin Kadoya who turned out to be his father. Kadoya received Sh660,280 from Marenya in 2015 alone.
Interestingly, Wasiwasi and his cronies have been transacting through specific M-Pesa shops with such frequency that raises suspicion. It suggests a pattern that requires further investigation.
"Parallel with specific investigations into acts of murder, we will also probe the financial transactions, including the possibility of money laundering and organised crime," Keriako Tobiko, the Director of Public Prosecutions told Africa Uncensored.
The shops comprise a number of M-Pesa establishments which share the same name, Jilmak Communications, and are located within two kilometres of one another.
They are along Haile Selassie Avenue and Tom Mboya Street, a route that Wasiwasi would take on a daily basis. Many times, deposits from his number in two of the shops would take place within a minute of each other. The M-Pesa records indicate that he made 313 transactions worth Sh2,627,940 through the shops.
These transactions and many more which involve bloodied money have left in their wake a trail of death, with survivors being consigned into abject anguish.
In September 2013, hawker Irungu Kamau was killed, allegedly by Nairobi inspectorate officers. He succumbed to stab wounds in the neck. It was not until two years later that the murder suspects —Wasiwasi, Marenya and two other inspectorate officers, namely Julius Ochieng and Bernard Sakala – were arrested. Even then, it took the intervention of Nairobi Senator Mike Mbuvi who offered a reward of Sh100,000 to any person who volunteered information that could lead to their arrest. The four are currently facing murder charges at the High Court in Nairobi.
One year after Kamau passed on, another hawker, Harun Njoroge, was murdered in cold blood. Njoroge is said to have disclosed the names of his killers to a relative minutes before he died.
"He mentioned Wasiwasi and Marenya alias Tall Brown," the relative claimed.
The chairman of Nairobi Street Vendors Association, Kimani Waweru, attributes the brutality meted by the inspectorate officers on hawkers to insatiable avarice. "The vendors being harassed or eliminated are those who refuse to give bribes," claimed Waweru. "It's mandatory to pay them a certain amount of money to be allowed to operate within the central business district," he alleged.
Dennis Mbae is a reporter and researcher at Africa Uncensored.
@MbaeDennis