Three Kenyans captured fighting for Al-Shabaab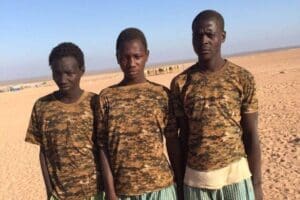 Three Kenyan youths are among Al-Shabaab terrorists captured while fighting government forces in Puntland.
It is believed they are among many youths who have been reported missing from their homes after being lured to join the terrorist organizations.
During the fight 100 Al-Shabaab terrorists were killed and 59 others belonging to various nationalities arrested.
The three Kenyans were identified as Abdullahi Arbow Mohamed, Idiris Muse Jirow and Yusuf Qabiro Makoma.
Puntland is a semi-autonomous State in North Somalia and Al-Shabaab have been launching attacks in the area that has over the years enjoyed relative peace.
A police report in February revealed that Al-Shabaab have established a recruitment network that lures gullible youths with promises of money, a car and wives.
The syndicate has roots in Mombasa and spreads to Isiolo, Nairobi and Lamu counties.
Primary and secondary schools were the main targets of the network operated by radical clerics.
The identities of the youngsters was discovered barely two days after a Kenyan was killed alongside six other Al-Shabaab commanders in Somalia.
Sheikh Mansur was the chief trainer of the Somalia terrorist organization.
Others killed are the head of Aminiya, Al-shabaab's intelligence wing in lower Shabelle Hassan Ali Dole, a Yemeni bomb expert Abu Islam, the commander of Leego region Aden Bale and the "Judge" of Janaale region Mohamed Abribao.
In a statement, African Union Mission in Somalia said the commanders were killed in separate incidents in the last three days.
"Al-Shabaab are more frequently resorting to hit and run tactics to avoid direct contact with AMISOM and remain relevant," said the Contingent's Commander in Sector 1 Brigadier General Sam Okiding.
"Operations to open the Main Supply Route to the town of Janaale and clear Improvised Explosive Devices (IEDs) continue and have now extended into the town. The clearance activities are meant to ease the movement of the population and goods," the statement released on Thursday added.
Sheikh Mohamed Ali who was second in command in Janaale was also killed.
Another commander Abdirashir Bugdube was killed earlier.
Kenya Defence Forces (KDF) has over 4,000 troops fighting the terrorists in Somalia.
Other countries with troops there are Burundi, Uganda, Ethiopia and Djibouti.
The Amisom force has over 20,000 troops in the war torn country.
-nation.co.ke