US pledges to help Kenya fight Al-Shabaab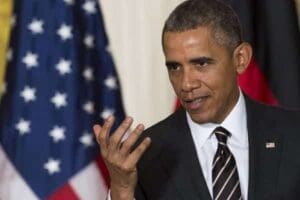 The United States will help Kenya "take on the terrorist group Al-Shabaab," President Obama's spokesman has said following the attack on Garissa University College.
White House Press Secretary Josh  Earnest on Thursday said in a statement that the US "condemns in the strongest terms" the massacre claimed by the Somalia militant group.
"We extend our deepest condolences to the families and loved ones of all those killed in this heinous attack, which reportedly included the targeting of Christian students," the White House statement read in part.
"The United States is providing assistance to the Kenyan government,  and we will continue to partner with them as well as with others in the region to take on the terrorist group Al-Shabaab."
COWARDLY ATTACKS
"The United States stands with the people of Kenya, who will not be intimidated by such cowardly attacks," Mr Obama's spokesman declared.
The statement did not specify the action US would take against the Al-Qaeda-linked terrorists.
But the US has in the past launched missile strikes against Al-Shabaab targets in Somalia, killing some of the group's leading operatives.
Meanwhile, rights defender Amnesty International has accused the Kenyatta government of failing to respond adequately to the expressed fears of a terrorist attack in northeast Kenya.
EXPRESSED FEAR
"Citizens and public servants in the north have repeatedly expressed fears about their vulnerability to Al-Shabaab attacks, which the Kenyan government has failed to appropriately address," said Muthoni Wanyeki, Amnesty's East Africa regional director.
"It is the government's responsibility to guarantee the security of all its citizens, including those in the north, and to do everything legally in their power to prevent such attacks from taking place at all," Ms Wanyeki added.
She urged Kenyan authorities to "to act decisively and within the Constitution and the law to ensure protection for those under or at risk of attack in Garissa and other areas of the north."
-nation.co.ke