VIHIGA SPEAKER SUSPENDED FOR SPENDING COUNTY CASH ON WEDDING AND HONEYMOON'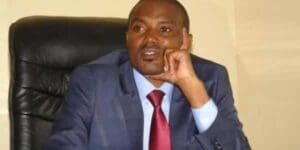 Members of the Vihiga County Assembly have suspended Speaker Dan Chitwah claiming that he spent Sh1.85 million county cash for his wedding and honeymoon.
The Speaker will also be probed for abuse of office, with claims that he used a further Sh200,000 assembly money to purchase an engine for his personal car.
"The Speaker received an imprest of Sh1 million from the assembly to facilitate his wedding in April last year," said Mr Nathan Kamidi, who moved the successful motion to suspend Mr Chitwah.
"He then traveled to Seychelles for honeymoon and it is alleged that the cost of the trip totaling to Sh850,000 was invoiced to the county assembly."
The MCAs on Thursday evening passed a motion to suspend the speaker, with 34 out of 39 members backing the motion.
ILLEGAL SUSPENSION
But Mr Chitwah said the suspension was illegal as the law does not provide for the suspension of a speaker.
He said: "Can the assembly suspend a Speaker? I am a lawyer and I doubt whether there is such a provision in law. I have been convicted already and therefore let's see what follows."
The Speaker is also accused of effecting double allowance for himself where he allegedly received a monthly house allowance yet the assembly pays his Sh80,000 monthly rent for a house in Mbale.
Already the Auditor General has recommended that Mr Chitwah and the landlord be surcharged up to Sh1.2 million for the double payment.
The MCAs, while contributing to the motion, accused the Speaker of single highhandedly sourcing for a lawyer to represent the assembly in various court cases.
They further accused him of overseeing irregular recruitment of 116 staff in 2014. The said staff were later sacked after working for eight months without pay.
After the motion was passed by the assembly, an 11 member ad hoc committee was formed to conduct investigations into the Speaker's conduct and table its findings and recommendations in the House on May 12.
-nairobinews.nation.co.ke