Why Kalonzo and Wiper Movement are in Cord to stay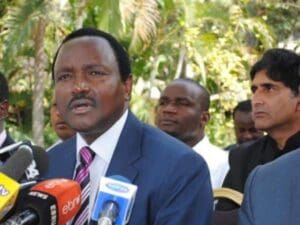 I can tell you categorically that His Excellency, Hon Kalonzo Musyoka, has no intention of joining Jubilee. ere has been a lot of empty talk on this subject, and it is all nonsense.
Who is dreaming that this is even possible? Those are empty daydreams. We know very well that Jubilee are doing all that they can, inside Parliament and outside Parliament, and trying to apply coercion. They even have all kinds of mercenaries and other people who are being sent around to spread those kinds of rumours. Others are being asked to try and approach Hon Kalonzo.
It is all a waste of time. The Lower Eastern region, or Ukambani, if you want to call it that, is in Cord to stay. Let me restate that for the sake of clarity: HE Kalonzo Musyoka is not ready to join Jubilee. To give you an example of what I mean: Just a few days ago, I was in my constituency, Matungulu, where we were opening a school. We had not less than 3,000 people present.
And the media people were there, so anyone can confi rm what I am about to state here. I asked my people, "Would you be willing to see our leader HE Kalonzo Musyoka leave Cord and join Jubilee? Are we ready to join Jubilee?" And they all shouted back, with not a single exception, "No, we are not ready for that!"
I then asked them a second question, "But what if HE Kalonzo Musyoka makes a decision and decides to join Jubilee, what would you say about that?" And they answered me, "He would go alone! We would not go with him!"
Steven Mutinda Mule is the MP for Matungulu
-star.co.ke