2016 KENYA DIASPORA CONFERENCE -ATLANTA GA
2016 KENYA DIASPORA CONFERENCE -ATLANTA GA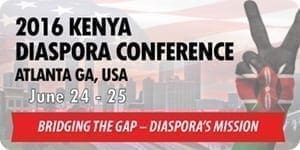 The Association of Kenyan Organizations Inc. (AKDOi)
and its affiliates cordially invite you to the
2016 Kenya Diaspora Conference in Atlanta, GA.
We are expecting an attendance of over 400 people including leading businesspersons and government officials from many different backgrounds in the United States and Kenya, providing individuals and businesses with a unique opportunity to build relationships with representatives from various industries and government entities.
During this year's Conference, themed "Bridging the gap – Diaspora's Mission"  our plan is to increase our engagement between the Kenyan Diaspora community in the United States, American and Kenyan Businesses and the U.S. and Kenyan governments; strengthen trade and investment opportunities between the U.S. and Africa in a variety of sectors, not limited to -manufacturing, infrastructure, financial services, education, agriculture and technology.  In addition, you will also have the opportunity to create partnerships, and play a pivotal role in forming initiatives that would advance our common welfare and contribute to the region's development.
We also plan to highlight  Youth and Women issues; Health & Disability; Technology; the democratization of the Diaspora and its representation at pertinent levels of government through Diaspora voter registration and voting in the 2017 general elections and beyond; a Diaspora Policy.
The Conference will officially start at
Georgia Institute of Technology (Georgia Tech)
on 
Friday, June 24 at 8:30 AM
and conclude
on Saturday
,
June 25 at 5:00 PM

.
Both days' events will be attended by
County governors 
and
National government 
officials
from Kenya, officials from the
United States Development Agency (USAID),
influential think tank groups, leaders of both U.S. private and public sectors as well as prominent media persons delivering keynote speeches and remarks. Throughout the Conference participants will also attend networking events and meetings with prominent leaders and government officials.
AKDOi
will be honored by your participation at our
Conference
as we work towards continuing to build the economic, social and political empowerment of the Kenyan Diaspora.
LIMITED TRADE/EXHIBIT BOOTHS/TABLES AVAILABLE.