[AUDIO] 100 Jubilee MPs to attend Madaraka Day prayer rally at Uhuru Park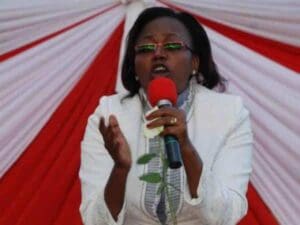 Jubilee leaders have vowed to mobilise over 100 MPs to attend the Uhuru Park prayer meeting which falls on Madaraka Day 'to pray for the nation.'
The move sets the stage for a clash between them and Cord supporters who also claim to have booked the facility on the same day.
Speaking in Mai Mahiu Naivasha, the Jubilee denied that the prayer meeting had been cancelled in favour of the Cord meeting, terming the allegations as baseless.
Flanked by Lucy Ngunjiri from Prayers Beyond Boundaries Ministries, which claim to have booked the venue, the leaders vowed to proceed with the meeting.
Ngunjiri refused to address the press and instead directed them to the political leaders.
According to Kiharu MP Irungu Kang'ata, the venue of the meeting was booked in early May by the church, which paid Sh150,000 to Nairobi County government
Kang'ata said they did not anticipate any violence, as the meeting was meant to pray for the country.
The MP added that all people are welcome.
"We plan to mobilise over 100 MPs to attend this prayer rally, while the other legislators will accompany the head of state in Nakuru to mark the national day," he said.
The MP added that Cord leaders were also welcome to come and pray with them, adding that no politics would be allowed in the meeting.
Nairobi county government has said Cord has the rights to hold their meeting at Uhuru Park.
On Monday morning, 32 Cord and Jubilee MPs held a private meeting at Lillian Towers.
The meeting calls for a 'Bipartisan Parliamentary Conclave' to discuss how best to resolve the IEBC standoff.
It is led by Mukuruweni MP, Kabando wa Kabando; Ugenya MP, David Ochieng'; and Tarbaq MP Mohamed Elmi.
The MPs are expected to issue a statement once the meeting concludes.
Later in the day, Jubilee MPs will hold a press conference concerning the planned events on June 1.