Kenyan appointed to head UN Mission in South Sudan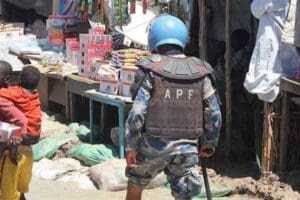 Kenyan appointed to head UN Mission in South Sudan
United Nations Secretary-General Ban Ki-Moon announced Friday the appointment of a Kenyan general as the force commander of the UN Mission in South Sudan (UNMISS).
Lt Gen Johnson Mogoa Kimani Ondieki will become commander of more than 12,000 troops from 55 countries.
He has 34 years experience in national and international military affairs.
He has served since 2013 as Deputy Army Chief of Staff/Command and Control of Kenya Army Forces.
His other top posts include General Officer-Commanding Western Command-Kenya Army (2012 to 2013) and Land Forces Component Commander of Kenya Defence Forces in Operations (2011 to 2012).
Lt Ondieki, 56, served previously with UNMISS as sector commander from 2010 to 2011.
He holds a degree in Peace and Conflict Studies from the African Nazarene University and is a graduate of the War College in China, and the Command and Staff College in the United States.
He will replace Lieutenant General Yohannes Gebremeskel Tesfamariam of Ethiopia, who will complete his assignment on June 17.
–nation.co.ke
Kenyan appointed to head UN Mission in South Sudan