KENYA'S TYCOON POLITICIANS IN RACE TO LOOK ORDINARY – PHOTOS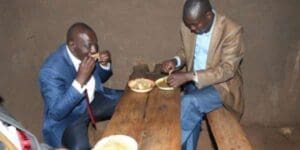 KENYA'S TYCOON POLITICIANS: Kenya's top politicians are on a charm offensive to look ordinary to the electorate before the campaigns for next year general elections start in earnest.
President Uhuru Kenyatta, his deputy William Ruto and Opposition leader Raila Odinga have recently dispensed with the trappings of wealth and power in efforts to reach out to people in the grassroots.
The attempt at folksy populism has seen them being pictured in mud-walled houses and eateries. Over the weekend, the President Kenyatta and Mr Ruto shared photos of their moments in mud houses.
KENYA'S TYCOON POLITICIANS IN RACE TO LOOK ORDINARY
Not to be left behind, Mr Odinga's handlers fished out an old photo of him in a mud-walled house with an old woman and circulated it on social media.
President Kenyatta was in Ndigu-ini village, in Ndeiya, Kiambu county to launch the last mile power connectivity project.
He switched on the power alongside the host family to the delight of residents and government officials present.
Moments later, the President received a stalk of sugarcane from an elderly woman. His security detail allowed the woman access to hug the President.
KENYA'S TYCOON POLITICIANS 
Opposition leader Raila Odinga's supporters while sharing the old photo during his tenure as Lang'ata MP where he was pictured in a Kibera shanty, argued that the Jubilee leaders are late comers in reaching out to the poor.
POLITICIANS IN RACE TO LOOK ORDINARY