Raila Odinga shakes up ODM party ahead of 2017
Raila Odinga shakes up ODM party ahead of 2017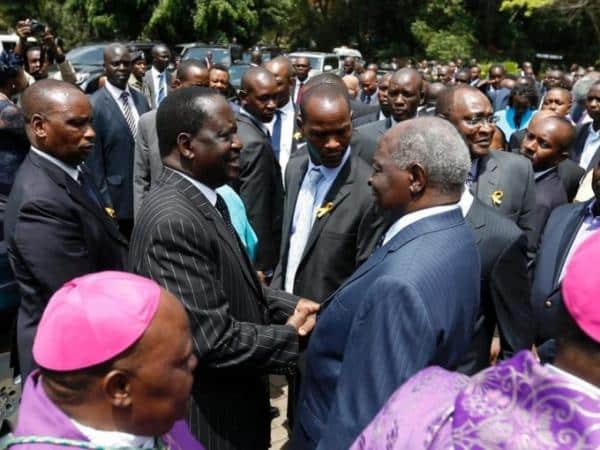 Opposition chief Raila Odinga is shaking up Orange House, the nerve center of his political activities, and seeking new blood in a bold strategy for 2017.
The Star has established that all five long-serving directors at Orange House have been told to reapply for their jobs and the directorate is being expanded to nine.
Last year a disciplinary committee recommended complete overhaul of the secretariat. One insider described it as "moribund", incompetent and plagued by infighting.
An unofficial SMS seen by the Star calls for "a new, aggressive" team. It says ODM rallies are "some of the most chaotic things on earth" and serious professionals and middle-class people are afraid to attend.
The shakeup has sparked fears that many figures who dominated Raila's previous campaigns may eventually be kicked out. It is beginning just days after the party daringly disbanded its National Elections Board.
The grand housecleaning is among a raft of reforms Raila is initiating as he lays the groundwork for a do-or-die battle against President Uhuru Kenyatta.
ODM executive director Oduor Ong'wen confirmed to the Star the directors had been asked to reapply for jobs, but dismissed suggestions of termination.
"We are going to have more directorates since some of the previous units have been split. That is why they are being asked to reapply to decide where they want to work. Nobody is in danger," Ong'wen said.
ODM secretary general Ababu Namwamba said the new structure has been approved by the Central Management Committee, a key think-tank, and is to be ratified by the National Executive Committee.
"The whole process is meant to make the secretariat more effective," Ababu told the Star.
The Central Management Committee is headed by Raila and select members of the NEC
But interviews with multiple sources indicate some directors could be on the chopping block.
A text message being circulated to ardent ODM supporters, and seen by the Star, urges competent members to apply for the jobs to revitalise Raila's political machine.
"As some of you may be aware, directors at Orange House have been asked to reapply for their positions. It's being hushed but Orange House needs a new aggressive team in all areas," the text reads.
Wafula Buke, a former political detainee and fiery student leader, is ODM's director of strategy, while Rosemary Kariuki, the daughter of JM Kariuki, is the director of membership.
Others are Caesar Asiyo, director in charge of coordination; Philip Etale, director of communication; and Benson Musungu, ODM youth coordinator.
Asiyo was director of coordination in Raila's office of the Prime Minister and worked as deputy national presidential campaign manager and head of operations in Raila's presidential campaign.
The recruitment SMS text says ODM voter and membership registration have declined and operations are substandard. It also cites poor logistics and operations during ODM events.
"Our rallies are some of the most chaotic things on earth but very expensive. The middle class and serious professionals fear our rallies," the text says.
Political advisers have often called for an overhaul of the team around the former Prime Minister.
They want the directors to be replaced with less rigid and and more creative personalities who can design a powerful political ideology and formula for what will almost certainly be Raila's last stab at the presidency.
The senior ODM insider, who did not want to be identified, said:
"People have complained a lot. Either they are incompetent or just sleeping on the job. For us to mount a serious campaign, a lot has to change in terms of human capacity."
Among the complaints is that Raila is overburdened and without him nothing happens in the opposition.
A disciplinary committee headed by lawyer Fred Athuok last year recommended overhaul of the entire team.
The committee noted cases of indiscipline and infighting and warned that failure to crack the whip would be costly in 2017.
The committee was constituted by ODM following the forceful ejection of the Party's ex-executive director Magerer Lang'at in October 2014.
Yesterday, Namwamba said the party is still discussing how to reconstitute its elections board, the powerful organ overseeing nominations that are typically fierce and sometimes disorderly and violent.
Graft and credibility issues have been raised about NEB members after shambolic grassroots elections, which briefly intensified ODM infighting.
A separate but fully fledged Cord secretariat — bringing together Raila, Wiper leader Kalonzo Musyoka and Ford Kenya Leader Moses Wetangu'la — is based at Capital Hill.
The secretariat is headed by lawyer Norman Magaya. Former Special Projects Permanent Secretary Andrew Mondoh is in charge of Raila's administrative work.
Sources tell the Star the ex-PM is already scouting for a separate presidential campaign team. He will personally conduct the job interviews.
But because of persistent wrangles in Cord, a strong ODM is likely to be Raila's fallback.
Already, there are indications the three affiliate parties will not have joint primaries. Bruising battles between ODM and Ford Kenya are expected in Western.
"Only a month ago, my brother Raila was in Bungoma and I attended the meeting of his party," Wetang'ula said on April 12.
"His secretary general [Ababu Namwamba] said in my presence that ODM will look for members anywhere and everywhere, will field candidates in all electoral positions in the country, including whichever seat I was going to stand for. What's wrong with doing the same?"