VIDEO: Museveni and Uhuru Kenyatta Dancing to salsa Music
VIDEO: Museveni and Uhuru Kenyatta Dancing to salsa Music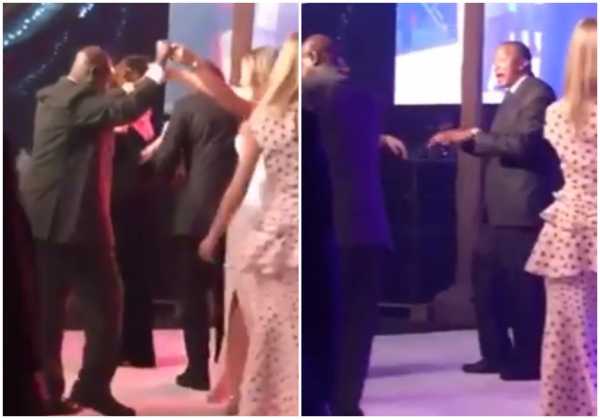 President Uhuru Kenyatta on Friday night led a salsa dance with his Ugandan counterpart Yoweri Museveni at the Giants' Club Summit dinner.
Uhuru was seen bringing to the dance floor a white woman dressed in black and held her hands as he moved rhythmically to the sound of blaring speakers.
The President, who seemed shy to take to the floor, displayed rare dance moves, as the guests and leaders cheered him on.
But seemingly unsure of the moves, he kept on checking the styles displayed by Museveni, who was busy dancing his heart out with two lovely white women.
The women dressed in cream-long dresses seemed to be enjoying the dance, as they swayed from right to left.
Museveni, who seemed lost in his thoughts, was seen checking out the two women with admiration as they moved rhythmically to the tune of the song.
VIDEO: Museveni and Uhuru Kenyatta Dancing to salsa Music