VIDEO:ABABU: ODM is an Embarrassment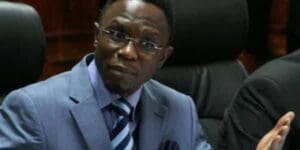 Embattled Orange Democratic Movement (ODM) Secretary General Ababu Namwamba has labelled the party an embarrassment.
On Sunday, Namwamba said that ODM's failure to carry out activities in an established manner was portraying the party in bad light hence embarrassing its members and supporters.
According to him, ODM is traditionally known to have bad manners characterised by disrespecting the constitution and rowdiness of its supporters.
Namwamba said that actions by city lawyer Edwin Sifuna to overthrow him as the party's secretary-general was a case in point.
"The action taken by Edwin Sifuna is an illustration of bad manners in ODM, anarchy, impunity, disrespect for the constitution and unestablished order of doing things. It has been a traditional way of bad manners in the party," the secretary-general said in an interview on KTN.
The Budalangi MP added that the ejection of Magerer Langat as the Executive Director highlighted some of the shortcomings in the party
Namwamba did not stop before citing the nomination of Prof Hellen Sambili to the joint committee leading IEBC talks, which he said was a major embarrassment suffered by ODM andCORD.
"We suffered an embarrassment when we purported to appoint Hellen Sambili to represent CORD in the negotiations against IEBC. What did she do? She threw the appointment back to our faces. The question was how was this appointment made," added Namwamba.
The legislator has for the longest time been fighting to drop the Jubilee mole tag, after failing to participate in major party activities such as the anti-IEBC protests.