Ababu Namwamba marries Miss Tourism Busia county after dumping wife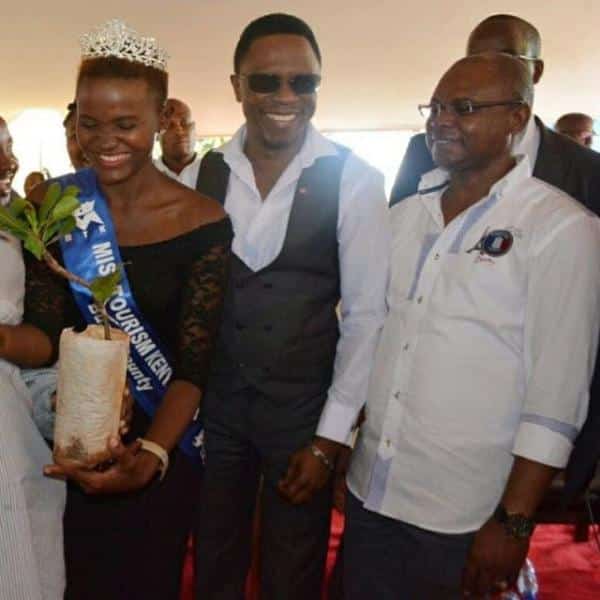 Cabinet Administrative Secretary in the Ministry of Foreign Affairs Ababu Namwamba has married Miss Tourism Busia Paula Ann after dumping his wife Priscah Mwaro few months ago.
Paula is a student at Technical University of Mombasa. She is believed to be residing in Ababu's Nairobi house.
Ababu Namwamba and Priscah went their separate ways after they both accused each other of unfaithfulness.
The young CAS is known for his extreme appetite for 'young' lasses.
Ever since she won the Miss Tourism Busia county title , Paula has been everywhere in all functions with Ababu Namwamba.
Ababu Namwamba seems to have heeded to the advice of COTU secretary general Francis Atwoli who encouraged men to go for polygamy instead of maintaining mpango wa kandos
Ababu and his new wife at a past function.Source-sasanews.co.keAbabu Namwamba E.G.H. is a Kenyan politician and Cabinet secretary for Youth Affairs, Sports and the Arts, having been appointed by President William Ruto. He is an international lawyer trained in Nairobi and Washington, DC. Since 2016 he has been the leader of the Labour Party of Kenya. Ababu is also the immediate Former Chief Administrative Secretary of the Ministry of Foreign Affairs of the Republic of Kenya.
Ababu Namwamba was born in Jinja, Uganda to Kenyan parents on 23 December 1975, and raised in Uganda and later Kenya. Outside politics he is a public interest attorney specializing in international human rights and constitutional law, and a former columnist with leading newspapers in Kenya.
Ababu Namwamba holds a Bachelor of Laws degree from the University of Nairobi and a Master of Laws degree in International Law from American University Washington College of Law. Before his election to Parliament in 2007 on his first attempt, he had already built an impressive profile as a public interest attorney and crusader for accountable government. He was Chief Counsel at The Chambers of Justice, a public interest trust he founded in 2002 and ran alongside his law firm, Ababu Namwamba Attorneys-at-Law.-Wikipedia
Ababu Namwamba Abandons A Pregnant Miss Busia Paula Ann, Cohabiting With Luciana Andafu
Remember last year when Chief Administrative Secretary (CAS) Ministry of Foreign Affairs Ababu Namwamba introduced his newly found love interest Miss Tourism Busia County, Ann Paula Machio as his "next wife?"
Well, seems like all is not well in paradise.
Kahawa Tungu has learnt that the always dapper former legislator after walking out of his marriage to Priscah Mwaro, is no longer with Ms Machio.
In August last year we reported that while cohabiting with the beauty queen, he was also secretly seeing Luciana Andafu.
Luciana is said to have been living at his rural home while Machio stayed in the city with him.
This writer has also learnt that the CAS who has in the past been described as a philanderer, is now actively dating Luciana.
The latter was in September 2018 reported to have been hospitalized immediately after the politician introduced Machio as next in line to being the "main chic."
She is said to have developed anxiety related complications.
In the brief period that Machio was Namwamba, she allegedly fell pregnant. But the ex-Budalangi lawmaker has denied fathering the child.
His estranged wife had accused him of infidelity and cruelty. In fact she said he was sleeping with relatives from both his family and hers.
Apr 12, 2019
Source-https://www.kahawatungu.com/
Ababu Namwamba marries Miss Tourism Busia county after dumping wife