WATCH: Secret Service Jump on Stage To Cover Bernie Sanders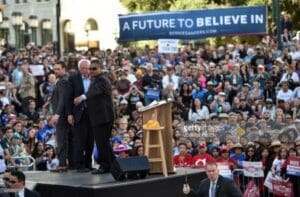 (CNN) At least four people at a Bernie Sanders rally in Oakland rushed the stage Monday evening, spurring Secret Service agents to jump onto the raised platform and protect him.
The Democratic presidential candidate was uninjured and continued speaking, but not before several agents hugged him and pushed him away from the
microphone
. The identities of the individuals, who yelled as they approached the stage, were not immediately known. They were apprehended and led away by Secret Service from the podium at the Frank Ogawa Plaza, where the rally was being held.
After the events of Monday night in Northern California,
Sanders
spokesman Michael Briggs said, "It was handled professionally by the Secret Service."
The Vermont senator began receiving Secret Service protection in early February during the early part of the presidential primary season, in his challenge to Democratic front-runner Hillary Clinton.
It's not the first time in the 2016 campaign season that Secret Service have jumped on stage when commotion broke out around a protectee. In March a protestor jumped a barricade and tried to get on stage at a Donald Trump rally in
Vandalia
, Ohio, prompting Secret Service to react similarly by hopping on stage to shield the candidate.
Other security-related episodes have popped up around presidential candidates in recent months. In late April
Donald Trump's motorcade was forced to stop along a freeway, and Trump walked down a path, to get to a state GOP convention, in Burlingame, California.