VIDEO:Trouble in Raila party as western MPs protest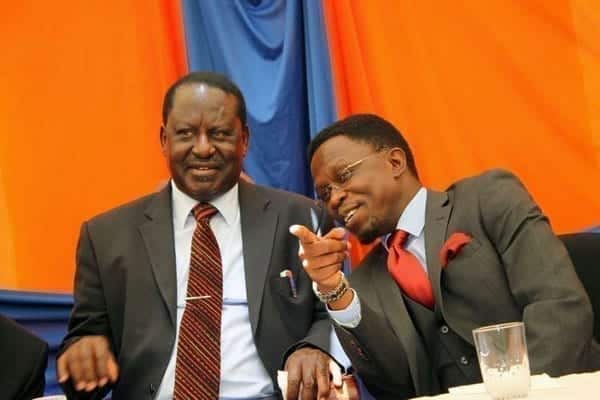 Fresh trouble could be brewing in the Orange Democratic Movement after eight of the party's MPs from the former Western Province said there are forces within the outfit that are bullying, frustrating and wrongly profiling them.
Led by ODM secretary-general Ababu Namwamba and national vice-chairman Paul Otuoma, the legislators said the party is in the persistent habit of treating them as second-rate members.
They pointed out party leader Raila Odinga and chairman John Mbadi, who is also the Suba MP, as being behind the activities they say appear bent on undermining them as elected leaders.
"We are not happy at all that the party leadership has no respect for us as elected leaders in the region. The party leader as well as the national chairman have been conducting activities in the region without involving us at all," they said in the statement read by Dr Otuoma.
Others at the press conference at Parliament on Tuesday evening were: Wilbur Ottichilo (Emuhaya), John Waluke (Sirisia), Andayi Angola (Khwisero), Geoffrey Odanga (Matayos) and Raphael Otaalo (Lurambi).
CAMPAIGN AGAINST NAMWAMBA
The lawmakers also alleged a plot to oust Mr Namwamba as secretary-general and said this is fronted by the same forces who disrupted their much-awaited elections at the Kasarani Indoor Gymnasium in February 2014.
Mr Namwamba has since been appointed secretary-general but Dr Otuoma said this was largely an ineffective position as the directorates of elections and political affairs were taken away.
The positions were handed to loyalists: Ugunja MP Opiyo Wandayi is the director of political affairs and Suna East MP Junet Mohamed the director of elections.
Asked why they did not complain earlier, Dr Otuoma said there was initially the assumption that the office was handed over on the basis of good faith but they have since realised that that was not the case.
Despite stating that they have options, the MPs said they would fight within the party.
They cited recent visits by Mr Odinga to Kakamega and Vihiga without involving area MPs Ottichilo and Christopher Omulele and a visit by Mr Mbadi to Khwisero without involving the local MP and unveiling disputed party officials.
Dr Otuoma said Mr Namwamba's initiative, dubbed "TokelezeaID", which was aimed at getting more youth to get identity cards, was sabotaged with the creation of another called "Jitambulishe na Kipande" and the denial of funding.
"When he proposed and initiated far-reaching reforms to restructure the discredited party National Elections Board and end the perennial nominations mess, the agenda was snatched away, twisted around and used as a weapon to fight him," said Dr Otuoma, referring to Mr Namwamba.
Efforts to turn the party's secretariat into a professionally run outfit had also been frustrated, he said, and Mr Namwamba's work in securing the Kajiado Central and Mathare by-elections was never acknowledged.
Dr Otuoma said the secretary-general had also been targeted in a smear campaign by so-called party bloggers acting for "owners of the party".
"It is a classic case of a dog eating its own puppies and accusing them of smelling like goat," said Dr Otuoma.
Asked about this, Mr Namwamba said: "I have never been in the habit and I have never had time to respond to idle talk by Internet idlers and cyber loafers."
Dr Otuoma also protested the labelling of Mr Namwamba and others in the party as "moles" for being seen to be close to Jubilee.
"How can it be that when we engage President Uhuru Kenyatta or Deputy President William Ruto we become moles, but when others do the same thing, or even more, it is regarded as normal business of leadership?
"Who says we cannot be wealthy or seek high political office unless we are 'bought'?  We reject in total this juvenile condescending attitude and double standards," he added.
-nation.co.ke