Kisumu MP,Shakeel Shabbir shunned for marrying a Bukusu woman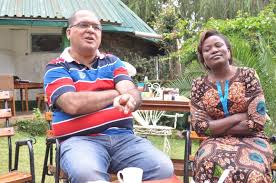 It seems the refusal of the Asian community to intermarry with people outside their race and religion may cost an ODM member of parliament his political aspiration in Kisumu.
Kisumu East MP Shakeel Shabbir spoke to the Standard and told the newspaper that Kenyan Asians in his constituency shunned him for marrying a Bukusu woman.
"They even refused to shake my hands because I went against culture and married Nancy Wanyonyi. They even vowed to not support my political ambition in 2017," narrated Shabbir.
He also bemoaned his time as mayor in Kisumu whereby those of Asian origin hid their money and refused to support development in the city.
"I had a rough time getting them involved in projects because they would stash their money in foreign accounts and use the surplus to fund religious projects,"added Shabbir.
In October 2014, in the Standard Digital, he was also quoted as saying that the Asian community wanted to kill him for marrying outside his race.
Shabbir's interview came even after members of the Asian community in Kisumu demanded that the county government recognize them in their development agendas.
Speaking on June 16, they said they were willing to work with the county instead of them outsourcing foreign investors considering they have invested a lot in the country.
After Mombasa, Kisumu is the second city with the largest Asian community.