Martha Karua rebukes JSC's rejection of Makau Mutua bid for CJ job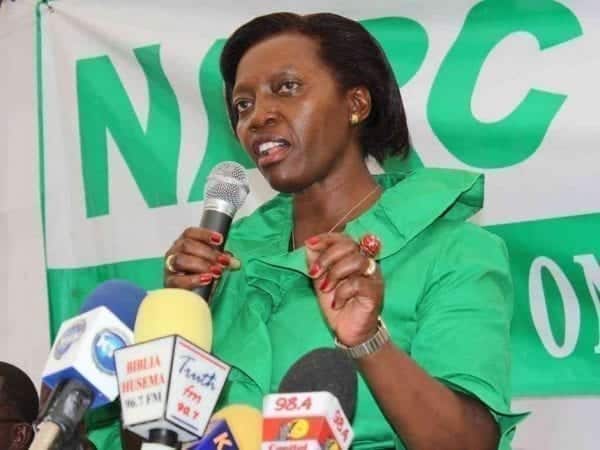 Martha Karua has criticised the Judicial Service Commission for rejecting Makau Mutua's application for the Chief Justice position.
The Narc Kenya party leader said JSC should tell Kenyans the criteria used to shortlist candidates .
"The public have a right to know. The JSC appears to have relied on extraneous considerations in refusing to shortlist Prof Makau Mutua for post of CJ, which is unacceptable," she said on Tuesday.
In her reply to a tweet, Karua accused the commission of championing an institution that is pro-president Uhuru Kenyatta.
Twitter user @CheAdv had said Kenyans need an impartial leader to succeed Willy Mutunga who retired last month.
Karua replied: "JSC appears to be looking for a pro @UKenyatta CJ. CJ is not by any imagination an employee of the President![sic]"
But the Narc leader was criticised by some users for her position on the matter.
"You cannot badmouth your potential employer and expect to be allowed past the gate," wrote Laban Mwaura Mwariri.
Nash Muiru said: "Mama, I thought u knew that pride comes before a fall, that principle applies to all including Mutua and you [sic]."
Other users accused the JSC of bias while some praised the institution for rejecting Mutua.
"JSC is controlled by cartels who have blessings from the house above. No way Mutua would be shortlisted," said Anto Fazul.
David Ndiritu Mwangi wrote: "JSC did a commendable job. Makau Mutua is too liberal. He should denounce his support for gays 1st before thinking of becoming CJ [sic]."
Mutua's application for the position of CJ was rejected on Tuesday.
Six candidates were shortlisted – justices Smokin Wanjala, Alnashir Visram, Roselyne Nambuye, David Maraga, Mbogholi Msagha and Philip Nzamba.
Mutua is a distinguished scholar who submitted a 71-page CV but concern was expressed over his controversial weekly opinion columns in the Nation and Standard.
In December 2014, the SUNY professor wrote: "As a matter of freedom of conscience and thought, I can't accept Uhuru Kenyatta as President of Kenya. I can't and I won't,"
Mutua was among thirteen candidates who had submitted applications for the position of Chief Justice.
The JSC said it will release the names of successful applicants for the position of deputy Chief Justice and that of Supreme Court judge on Wednesday.
Fifteen candidates had applied for the position of DCJ while 21 others applied for the position of Supreme Court judge.
The positions fell vacant following a Court of Appeal decision to retire Justices Kalpana Rawal and Philip Tunoi at the age of