Mudavadi leaves for Clinton Presidential fete in US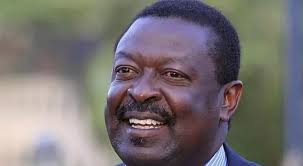 Amani National Congress (ANC) leader Musalia Mudavadi leaves the country tonight to attend the Democratic Convention that begins on July 25th in Philadelphia, USA.
Mudavadi will join other world democratic leaders to witness the unveiling of Hilary Clinton as the presidential candidate for the Democratic Party. Already, the Republicans confirmed Donald Trump as their candidate in a convention in Cleveland, Ohio on Tuesday.
The ANC leader will also be a guest at the International Leaders Forum organised by the National Democratic Institute (NDI) attended by all Democratic Members of Congress.
Mudavadi will be a panellist during discussion of "What It's Like to Run a Presidential Campaign"  together with former US Secretary of State Madeleine Albright who is also the NDI Chairman, former Speaker Tom Daschle, NDI Vice Chair, and Ed Rendell, former Governor of Pennsylvania.
The ANC leader is likely to make contact with outgoing President Barack Obama at the Convention although his itinerary also shows Mudavadi will be in Washington DC after Philadelphia a for a series of meetings at the State Department.