Netanyahu apologises to Kenyans for causing traffic jams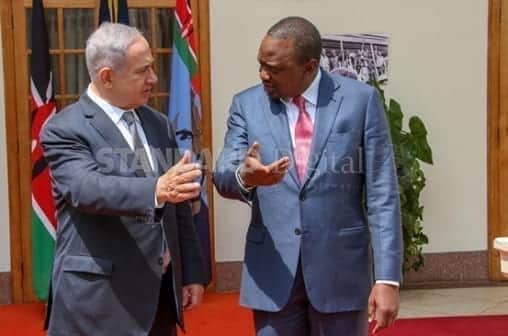 Israel Prime Minister Benjamin Netanyahu and his delegation left Nairobi Wednesday morning after a three-day visit.
The Israel Prime Minister apologised for causing traffic jams that inconvenienced motorists in Nairobi.
"Now I have to tell you I don't understand we are driving through Nairobi there is no traffic problem. But nonetheless I am sorry that after many pleasurable things that this visit evokes and good things for good."
"To borrow President Kenyatta's praise there is this inconvenience so I apologise to the people of Kenya will have to wait, people of Nairobi will have to wait in line and I tell you that we too have waited decades for this visit. We are glad to be here," he said on Tuesday evening amid laughter from a congregation.
His visit left a section of road users in Nairobi angry. This is because police had not warned them in time of planned disruption of traffic flow.
Some claimed they arrived home and other destinations late due to the road blockades that had been imposed whenever Netanyahu was on the move.
When the motorcade left for Jomo Kenyatta International Airport as he headed for Rwanda Wednesday morning, major roads were closed for more than 30 minutes.
Uhuru Highway, Chiromo Road and Mombasa Road were closed for a while as the motorcade snaked through the roads.
Tuesday, most motorists complained of staying in long traffic jam in the city as the delegation moved from a hotel to State House.
Some motorists said they stayed in jam for up to five hours. The affected roads included Uhuru Highway, Parliament Road, Kenyatta Avenue, State House Road and Chiromo Road.
The roads were closed for almost 30 minutes before his motorcade would pass due to security reasons. Police said they did not want "to take chances on his security" hence the blockades.
Netanyahu, First Lady Sara and his delegation of about 50 businessmen arrived in Nairobi on Monday night for talks with his host President Uhuru Kenyatta.
Nairobi police boss Japheth Koome said it was necessary for them to block roads to ensure safe passage of the delegation.
"We apologise to road users for the short notice that was issued before the closure. It was necessary," said Koome.
Several police officers were deployed at various junctions to control the flow of vehicles and pedestrians.