I'm hurt but have accepted my fate, says embattled governor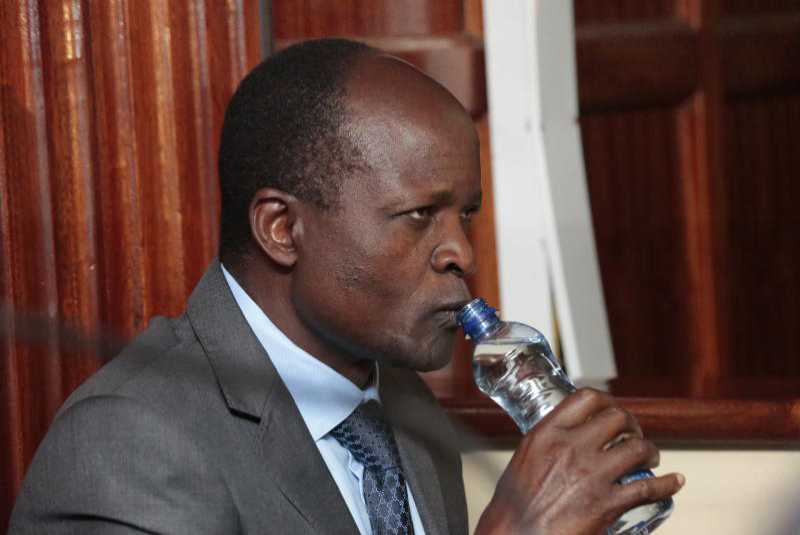 Admittedly resigned to fate yet steely, composed and raring to get out!
This is the mood at Kenyatta National Hospitals Side Room B in Ward 6A where an important guest of state, Migori Governor Okoth Obado, is receiving treatment ahead of court appearance on Monday.
When we walked in to the ward, the governor feigned a smile as he pulled himself up the six by four bed where he is chained and wryly exclaimed: "This is how it is now. And I have accepted it."
The dimly lit hospital room has now become Obado's new home since Wednesday morning when he fell ill.
Next to the bed was a pair of red slippers and knee height silver metallic shelve holding plates with leftovers served during the day.
"They brought me some ugali, vegetables and oranges. I liked the oranges. Dinner was served around 4pm," he said.
Cumulative debts
A dry piece of ugali and orange peels were on the white plates. And in another set of plates, a white tea cup perched waiting to be cleared.
He said breakfast is served at around 9am. "They bring tea and some few slices of bread. But I am comfortable with it," Obado said. A bowl of grapes, a plastic cup, a blue flask, toiletries, a shaving machine and a few items rest on the shelve top that is now the full storeroom of the governor.
"I am happy that my family is standing with me and I thank them so much," he said.
Though ill, he was more pained by the tarnishing of his image for what he claims he did not do; murder his girlfriend Sharon Otieno. Police have charged the Governor with the murder of Ms Otieno, a 26-year-old student at Rongo University.
"I have accepted the circumstances I am in and I am willing to deal with them. My spirit is still strong. I will continue to serve my people (of Migori) and I hope this will end soon," Obado said.
When he arrived at KNH on Wednesday morning after being taken ill at the Industrial Area prison, he was first admitted to the private wing before he was moved to the General Ward on Thursday.
"It has been blown beyond what it should have been. As a normal human being I am hurt and it is a painful experience that you cannot wish on anyone," said Obado.
Obado's left hand is handcuffed to the frame of the bed and during the interview he was using his right hand to emphasize points.
Lying on the bed covered with a blue mosquito net, Obado said it is unfortunate that people have worked hard to 'set me against the masses and they will fail.'
"The people of Migori have stood with me and I will continue to serve them," he said.
But the governor raised his voice when we questioned him about the alleged corruption at the Migori County Government.
"It is total madness for someone to imagine and even accept that such money can be taken from a county and it still remains running," said Obado.
The governor was responding to allegations that up to Sh2.5 billion may have been stolen from the county coffers, some of it paid to companies associated with his family.
The Ethics and Anti-Corruption Commission is investigating some 23 companies alleged to have been used to win several tenders between 2013 and 2017.
Reports indicate that so far, some assets among them 77 pieces of land and 32 companies have been exposed and several accounts frozen. "I blame this on cheap thinking. It is irresponsible for anyone who understands county operations to even accept that such money can be stolen. These are efforts of my opponents to distract me and tarnish my name," said Obado.
With firm eyes and a coiled face, he says: "I am not a member of procurement committee. That committee is independent and only sends recommendations acted upon by the executive.
Obado said money has been trickling into the counties and explained that this financial year Migori was allocated Sh8 billion, of which Sh320 million was received in August and another Sh400 in September.
"These monies have hardly been used and if they have probably in paying salaries. The monies being bandied around are cumulative debts owed to contractors for works already done," he said.