Attention on Olympics: Connecting great Olympian with a Kenyan named Bobby
Attention on Olympics: Connecting great Olympian with a Kenyan named Bobby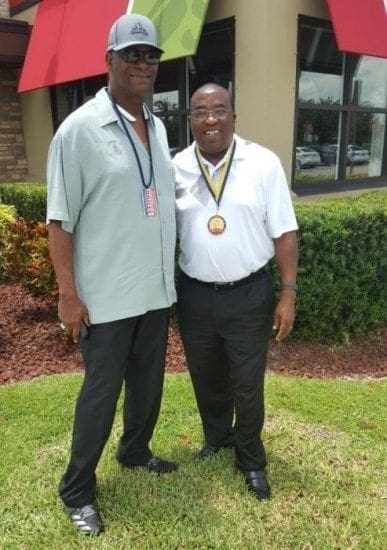 Mwalimu Peter Ndiang'ui with Bob Beamon
On the day when the Olympics 2016 opened in earnest in Rio De Janeiro, I had the honor of having lunch in Fort Myers, Florida with a great Olympian by the name of Bob Beamon. For those who may not know Bob, he is the athlete who broke the World record in Long Jump in the Mexico City Olympics in 1968 https://espn.go.com/sportscentury/features/00014092.html. His jump remained the World record for 22 years, 316 days until it was broken in 1991. Forty-eight years later, his jump is still the Olympic record which he believes will be broken soon by a young man from Africa! His achievement is hailed as one of the greatest Olympic feats of all time. After his spectacular jump, a new adjective Beamonesque entered the English language to describe spectacular feats. Later Bob played Basketball for Phoenix Suns. He has since then been a great inspiration to many young people. I was truly humbled when I was asked to have lunch with him on a symbolic day of the opening of the Olympics.
During our lunch conversation, Bob reminded me that every human being is endowed with will-power and the society has an obligation to nurture talents at an early age to enable our young people to realize the talents that God has bestowed on them. He reminded me of the resilience and the will power of the African people wherever they are. They have been subjected to many struggles but through it all, they are able to rise beyond dreams. He reminded me that what does not break you makes you stronger. Bob himself had gone through many hardships including losing a scholarship when he joined a group of black college athletes opposed to racism but that did not stop him from working hard to achieve his incredible goal of making the greatest leap.
He commented that the world does not to this day realize the immense potential lying in the African continent. He reminded me of the many Africans who opened the door for future athletes. He particularly singled out the achievement of his long-time friend Kipchoge Keino who through his achievements opened the door for many Africans to join American universities thorough sports scholarships. The scouting of African sportsmen and women greatly enriched the track and field teams of the American universities. Bob reminded me that as a Kenyan in America and the current President of the African Network of SW Florida (www.Africanneworkofswflorida.org), I had a huge personal obligation to use my position to remind the people in America and elsewhere of the great achievements of many people in the motherland. He reminded me that no modern Olympics can be what it is without the achievements of the African people wherever they reside in the world. This should be the message to be passed on by the many Africans in the diaspora.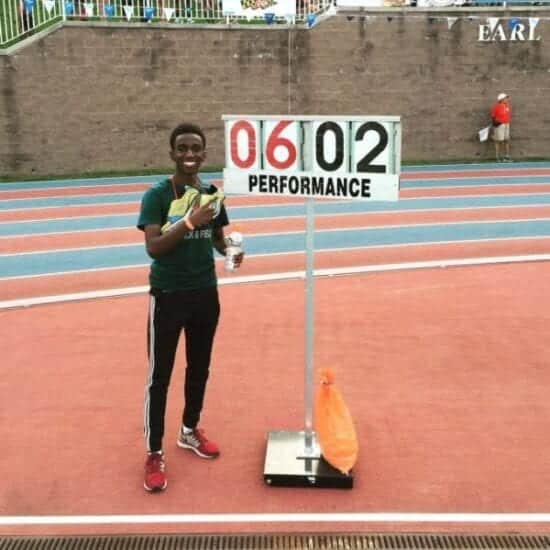 Robert Gicheru (Bobby) Son of Isaac Gicheru Kariuki
It was at this juncture that our conversation turned to the singling out of several young African children in the diaspora who are making great strides in various fields. He challenged me to point out to him what I am doing to tap into this potential of young Africans. As I struggled to find an appropriate answer, we ended up calling one such young man of Kenyan origin who is coincidentally also named Bob. Young Bobby, the son of Pastor Isaac Kariuki of Diaspora Messenger is already making a name for himself in Athletics in the State of Maryland and beyond. He is currently focusing on High Jump where he has achieved a record of 6 feet 2 inches and he is on the roll to jump even higher. Bob Beamon reminded me that we have an obligation to nurture such talent and that he hopes that young Bobby will be in the next Olympics! He needs the "village" to assist him in developing his great talent. We are proud of the achievements of young (Bobby) Robert Gicheru and the many other young Kenyans who have excelled in many fields right here in USA. It is a justification of why we left home and why America needs immigrants regardless of the cultural differences. Bob reminded me that the strength of this great country lies in its diversity.
All of us in the Kenyan Diaspora are eagerly looking forward to the success of our Olympians. They always make us proud and I am confident this will not be an exception. Go Stars!
Dr. Peter Ndiang'ui
Adjunct Professor, Florida Gulf Coast University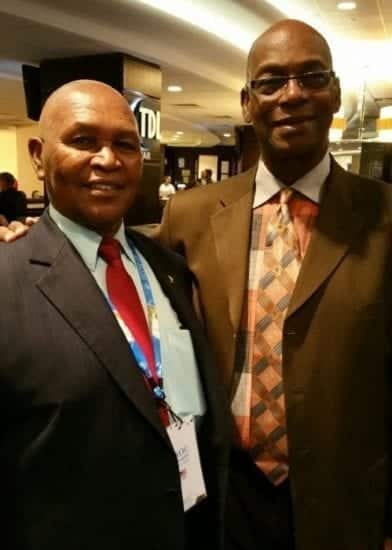 Bob Beamon with Kipchoge Kieno
Attention on Olympics: Connecting great Olympian with a Kenyan named Bobby