What is DP Ruto's game plan in 2017?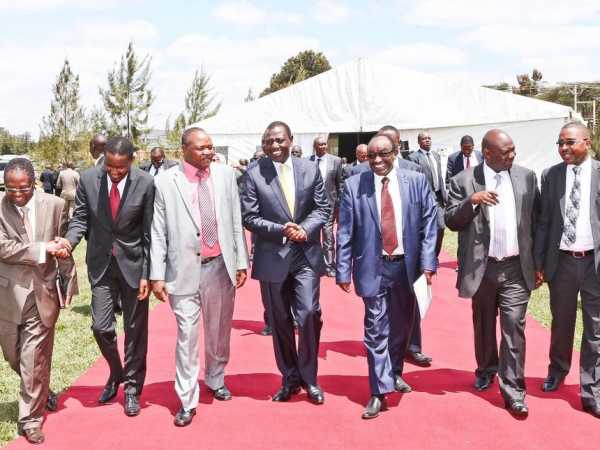 DEPUTY President William Ruto has plunged into a long-term game plan to build and consolidate his countrywide influence in Jubilee post-2017. The Hustler is keeping his eye on the prize: 2022.
The assumption is that President Uhuru Kenyatta and Ruto will be reelected next year and Ruto will roar into State House five years later. But not without considerable strategising and sweat.
The DP is determined to establish his personal, powerful and far-flung network that will propel him to power without depending on Central Kenya, his allies say.
He is hectically cross-crossing the country, wooing leaders, making promises and forging allegiances.
Ruto is addressing rallies and holding deluxe fundraisers for churches, schools, youth groups, women's organisations and other segments of the voting public. The lavish spending is expected to continue.
Last week while touring the Coast, Ruto said he was not there only for official duties, but also to campaign for 2017 and 2022.
"Although we come from different political affiliations, when the time comes, I am sure you will support my candidature," Ruto said.
Thirteen Jubilee-affiliated parties are to collapse on September 8 and on September 9 merge into UhuRuto's Jubilee Party. That's to be their reelection ticket and Ruto has embarked on aggressive strategy to ensure the government is tilted in his favour if JP wins.
Ruto's immediate goal is to achieve immense control and influence in JP by winning the majority governors and MPs over to his side. This will enhance his bargaining power in the Jubilee Party.
"This is about pre-election concessions," a Ruto ally said of the elaborate plan. "The DP wants to ensure he has massive support across the length and breadth of this country so after the polls he will have national appeal to launch his 2022 presidential bid."
Ruto wants to control as many counties as possible and command the loyalty of the majority of parliamentary seats. He is said to be targeting at least 20 counties and 120 MPs.
Among the counties he is targeting are all 14 in his Rift Valley backyard, Lamu, Kilifi, Nairobi, Machakos and Kisii.
JP victory in many counties and strong numerical strength in Parliament will give the DP a head start on 2022.
Although the DP has declared his support for Uhuru's second-term bid, Ruto is on full-throttle forays to elevate himself and meet political and opinion leaders in both Cord and Jubilee strongholds.
In his whirlwind charm offensive, the DP been building personal support and identifying point men to run for governor, senator and MP.
Allied governors and MPs will propagate his presidency bid and point-men candidates will be key.
Ruto's allies legal adviser Ananiah Mwaboza and former Labour CS Kazungu Kambi already have launched their Mombasa and Kilifi governor bids, respectively. They are part
of the DP's strategy to win at the Coast.
Uhuru has urged voters in his Mt Kenya bastion to support Ruto in 2022. This followed an outburst by Kiambu Governor William Kabogo and nominated Senator Paul Njoroge that Ruto must sweat to get the region's support.
"I have worked with this young man (Ruto) and I can assure you, my people, that he is capable of leading this country and carrying the Jubilee development agenda," Uhuru said.
But it's best not to county on Mt Kenya.